News > Features
When it comes to yoga, Russell really is just a poser
Tue., April 19, 2005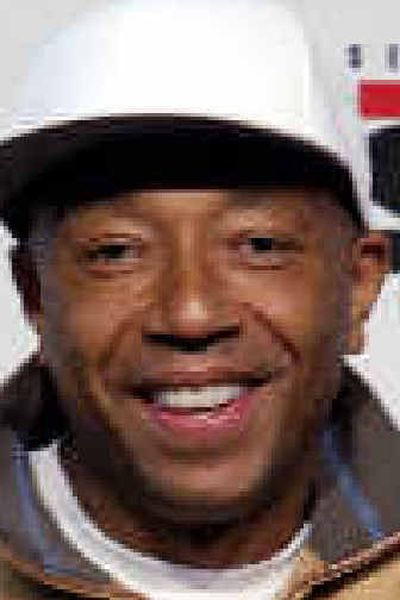 AS COUNTRY IS to line-dancing, rap is to … yoga? Hip-hop guru Russell Simmons has entered the fitness world with the release of a yoga video set to rap beats.
"Russell Simmons Presents Yoga Live" is an otherwise traditional instructional video that teaches the basics of yoga postures and breathing.
"For me, this is a very serious venture," says Simmons, who also announced last week that he's returning to the Def Jam music label he created two decades ago.
"If I could move the meter and take yoga and spread it … then everyone in the world would do it."
Simmons, 47, has practiced yoga for nearly a decade. He has introduced a host of other hip-hop-flavored products including an HBO comedy series, clothing lines and beverages, but says this is especially important.
"Everything you sell has got something to do with happiness," Simmons says. "So this is the best thing that I can sell."
Lawsuit – are you out of your mind?
A former schoolmate of Eminem cannot sue the rapper over a song depicting his bullying as a brain-jarring attack, a Michigan appeals court has ruled.
"Brain Damage," from 1999's "The Slim Shady LP" – in which the former Marshall Mathers III says his "whole brain fell out" after his head was banged on a urinal – was not meant to be taken literally, the court ruled.
Sanitation worker DeAngelo Bailey, who's named in the song, admits that he picked on Mathers but says he merely "bumped" him and threw a "little shove."
OutKast put in its place
Rosa Parks and rap duo OutKast have settled a lawsuit in which the civil rights pioneer accused the group of wrongly using her name in a song title.
The group and its label admitted no wrongdoing but agreed to work on projects "to enlighten today's youth about the significant role Rosa Parks played in making America a better place for all races," her spokesman said.
Parks was arrested after refusing to give up her seat to a white man on a city bus in Montgomery, Ala., in 1955, triggering a boycott led by the Rev. Martin Luther King Jr.
Fortunately, no one was DOA
Rapper DMX was arrested over the weekend following an accident on a Bronx expressway that injured three people, including two police officers.
DMX, whose real name is Earl Simmons, collided with a woman whose vehicle then hit an unmarked police cruiser carrying two officers. He wasn't hurt; the others were treated for minor injuries.
Last June, the 34-year-old Simmons was arrested for smashing his sport utility vehicle into a gate at Kennedy Airport after claiming he was a federal agent. He later admitted to being on Valium at the time.
Diddy craps out on Vegas
Las Vegas Mayor Oscar Goodman was set to proclaim Friday as "Diddy Day" in honor of Sean "P. Diddy" Combs, but plans were scrapped at the last minute when word came that the hip-hop mogul wouldn't show.
Combs called it an "unfortunate miscommunication," adding: "I am flattered the mayor saw fit to honor me with a day and hope to join him soon."
The birthday bunch
Actor Hugh O'Brian is 80. Actress Elinor Donahue ("Father Knows Best") is 68. Actor Tim Curry is 59. Singer Mark "Flo" Volman (The Turtles) is 58. Hip-hop mogul Suge Knight is 40. Actress Ashley Judd is 37. Actor James Franco is 27. Actress Kate Hudson is 26. Actor Hayden Christensen is 24.
Local journalism is essential.
Give directly to The Spokesman-Review's Northwest Passages community forums series -- which helps to offset the costs of several reporter and editor positions at the newspaper -- by using the easy options below. Gifts processed in this system are not tax deductible, but are predominately used to help meet the local financial requirements needed to receive national matching-grant funds.
Subscribe now to get breaking news alerts in your email inbox
Get breaking news delivered to your inbox as it happens.
---