News > Idaho
Post Falls schools focus on priorities
Wed., April 20, 2005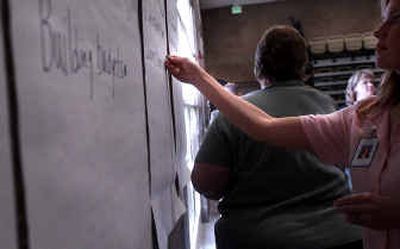 Kathy Baker proved Tuesday that she will go to great lengths to have the 1970s-era carpet at Ponderosa Elementary replaced. The principal even enlisted the help of third-graders to elicit sympathy from school district employees and parents gathered at the school district's annual budget workshop.
Baker brought pictures of the worn and torn carpet, as old as the school itself, and handwritten letters from students to help make her case.
"My chair gets stuck," wrote a student named Autumn. "I have tript over the carpet. I have seen my friend tript too. My desk gets cot."
Carpet for the Post Falls elementary was listed as one of the district's top needs – No. 6 on a list of more than 30 requests from the different schools and departments in the district.
For the past dozen years, the Post Falls School District has enlisted the help of everyone from taxpayers to teachers and bus drivers to maintenance workers to help prioritize the district's spending. After presentations from each school and department, everyone at the budget workshop votes to determine where the district should focus its limited discretionary dollars.
"A lot of districts get accused that the guys at the district office throw the budget together," said Sid Armstrong, business manager for the school district. "We've always said we're not here to hide anything. The books are open. Help us decide."
As ideas and needs were shared, Clerk Janie Anderson used a marker to make lists on butcher paper.
After all of the lists were posted, everyone in attendance was given five sticky dots, with the rule that they could place no more than two dots next to a single item.
KinderCenter Principal Julie Billetz stood in front of the lists with her final dot after most others had finished voting and returned to their seats.
"It's very difficult," Billetz said. "The items at the top of the list usually get funded, so it's very important."
Almost every priority identified through last year's workshop was addressed, said Assistant Superintendent Becky Ford. Salaries were the top priority last year, and the district paid for a 2 percent increase.
"There was not one of these high priorities that was not addressed in a significant manner despite lean revenue from the state," Ford said as she reviewed the list.
This year, adding alternative programs at the middle schools was listed as the top priority, receiving 30 votes.
Post Falls Middle School Principal Don Boyk said all of the district's secondary principals agreed there was a need for an alternative program for sixth-, seventh- and eighth-graders. The district's alternative high school, New Vision, has a waiting list, he said.
He hopes a middle school program will help students before they get to high school, alleviating some of the burden on New Vision.
Salary and benefits were also a top priority, along with equipment for the maintenance crews, adding staff to help non-English speaking students and a counselor at the high school.
Mike Gibson, president of the Idaho Association of School Business Officials, said Post Falls' method of allocating discretionary money is unusual.
"It certainly seems to work well for Post Falls," Gibson said. He said it might not work as well in other districts, especially larger districts.
Putting together school district budgets is "a very complex process," Gibson said. Often, he said, people become involved in the process only to lobby for their own interest.
"When you have areas of interest, then you have competition," Gibson said. "When you have competition, sometimes it becomes contentious."
At Tuesday's hearing, many came in lobbying hard for their own school or their own program. After hearing the pleas for funding, some realized there were bigger needs than their own.
Paula Bechler, a parent representing Prairie View Elementary, said she was surprised to hear from more than one speaker that the district didn't have a school nurse at each of its buildings. Three nurses now divide their time among the district's eight buildings.
"I had no idea," Bechler said. "When I was a kid we had a nurse full-time, all the time. And I'm surprised about Ponderosa's carpet."
Local journalism is essential.
Give directly to The Spokesman-Review's Northwest Passages community forums series -- which helps to offset the costs of several reporter and editor positions at the newspaper -- by using the easy options below. Gifts processed in this system are not tax deductible, but are predominately used to help meet the local financial requirements needed to receive national matching-grant funds.
Subscribe now to get breaking news alerts in your email inbox
Get breaking news delivered to your inbox as it happens.
---