A&E > Entertainment
Today"s trivia: Martha Stewart
Fri., April 22, 2005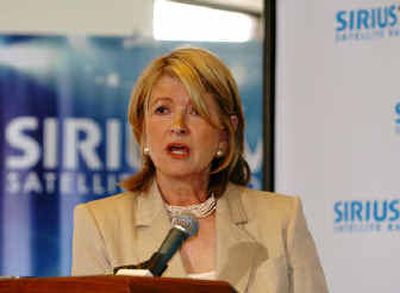 Martha Stewart has reached a deal to create a cooking and entertaining channel for Sirius Satellite Radio. How much do you know about the domestic diva?
1. Where was Martha Stewart born?
A. Jersey City, N.J.
B. Boston, Mass.
C. Westport, Conn.
D. Kansas City, Mo.
2. How many children does Stewart have?
A. None
B. One
C. Two
D. Three
3. Stewart was investigated for alleged insider trading of what stock?
A. Microsoft
B. Martha Stewart Living Omnimedia
C. Enron
D. ImClone
4. Stewart served her five-month sentence at the minimum-security Alderson Federal Prison Camp. What is the prison's nickname?
A. Club Fed
B. Club Cakewalk
C. Camp Cupcake
D. Camp Goodtimes
5. Stewart's husband filed for divorce the same day her weddings book was released. True or false?
A. True
B. False
Local journalism is essential.
Give directly to The Spokesman-Review's Northwest Passages community forums series -- which helps to offset the costs of several reporter and editor positions at the newspaper -- by using the easy options below. Gifts processed in this system are not tax deductible, but are predominately used to help meet the local financial requirements needed to receive national matching-grant funds.
Subscribe to the Spokane7 email newsletter
Get the day's top entertainment headlines delivered to your inbox every morning.
---