News > Idaho
Josephine Randle a wonderful mother, wife
Sat., April 23, 2005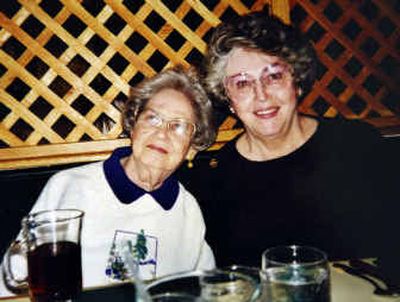 Josephine Randle was the only mother Joan Best knew. Abandoned by her biological mother at age 2, it wasn't until Joan was 11 that she finally got a real mom when her father wed the diminutive 23-year-old "Little Jo." Despite the closeness in their ages, Randle was by all accounts a wonderful mother to Best, and a wonderful wife to her father.
She died April 3 at Pinewood Care Center at the age of 84.
Randle was born in her home near Sandpoint in 1921, the youngest of eight children. Her parents, Harry and Laura Millard, stayed in the area until she finished the eighth grade, the highest level of education she reached. She moved to Nordman, Idaho, in 1939 with her parents, brother Bruce and sister-in-law Peggy. The family opened a shingle mill in Nordman and Randle went to work bundling shingles.
Best said her mom cut her finger quite badly once on the bundling machine. She was having an argument with her father, whom she called Papa, because she wanted a horse. Her father said no, which upset her. She was crying and not watching what she was doing and the machine got her.
"Well, she got the horse," her daughter said. She named the horse Buddy.
Randle's niece Lori Hendon, of Osburn, said that her Aunt Jo loved horses. Hendron made ceramic horses with jewels and other embellishments on them for her aunt, and she said that Randle always loved them and kept them.
In 1944, Randle moved to Coeur d'Alene and was hired at Farragut Naval Base in the identification department. It was there she met Chief Petty Officer Martin Q. Randle, Best's father, and they were married shortly thereafter. Her father's military career had not been a stable home environment for Best. He did the best he could but she spent many of those years in Catholic boarding homes or foster homes. When Martin Randle was transferred to Bremerton, shortly after the couple married, they sent for her.
"Normally it wouldn't have worked," Best said. "But she was super sweet – the cutest little 4-foot-11¾ you could ever imagine. We got along famously."
Best said that even though Jo Randle only went to the eighth grade, she was very smart and a voracious reader, who read constantly. She was also an accomplished classical pianist who loved to sing.
Hendon remembers her Aunt Jo's storage shed was filled with paperback books, and that she had read them all. Hendon's mother, Joy, is Randle's only surviving sibling. They lived in Spokane, and Hendon said that on the days her Aunt Jo would come to shop at the commissary she'd stop at her mom's and they would exchange paperback books.
Longtime friend Anne Kindler remembers Randle's love of mystery stories.
"She was a very sweet little lady, very affectionate. She hugged everyone," Kindler said. She added that she was very soft spoken and unassuming, enjoying quiet gatherings with her family. She remembers Randle as a "cute little lady" who loved clothes and loved to shop.
Jo and Martin Randle had one daughter together, Gayle, who was born in Bremerton. She died in 1997 of cancer.
The family returned to Idaho and settled in Coeur d'Alene after Martin Randle was discharged from the Navy in 1945.
Best said that her dad was a very firm Navy man, very much the disciplinarian.
"Everything was 'no'," she said. "Jo was young enough that she could see … and if it wasn't for her there were many places I would not have been able to go. She was the mother I never had, even though there was this short distance between us."
Martin Randle died of cancer in 1974. Jo stayed at their home in Rathdrum for three years after his death. Best and her husband, Floyd, would visit often, and they began to notice little things that weren't quite right. Randle was in the early stages of Alzheimer's disease. She resisted moving in with them, opting for a group home in Garwood, but that didn't work out, so she moved in with the Bests. Now Joan Best was taking care of the woman who took such good care of her.
Fortunately, the Alzheimer's progressed slowly, and she was still able to sing and play her piano. Randle lived with the Bests for several years, but Joan Best's own health problems forced them to move Randle to Guardian Angel Homes. Special relationships were formed at Guardian Angel as well. Lourdes Broxon, who goes by Lou, was one of her caregivers there for almost three years.
"When I said Grandma, you're the most beautiful grandma in the world, we seemed to have a connection," Broxon said. "Josephine is very special to me because she always had a big smile."
Broxon said that when Randle needed attention, she would ask her because even if other people could not understand her, she could.
A series of falls and the progression of her Alzheimer's took its toll, and she needed more care, so she moved to Pinewood.
"If she was going to know anybody, she was going to know me," Best said, regarding Randle's slipping memory.
The sweet "Little Jo," who never raised her voice to anybody, died peacefully. Hendon said that "she never had a mean thing to say about anybody."
Josephine Randle also is survived by two grandchildren, five great-grandchildren and six great-great grandchildren, and the many that knew and loved her.
Local journalism is essential.
Give directly to The Spokesman-Review's Northwest Passages community forums series -- which helps to offset the costs of several reporter and editor positions at the newspaper -- by using the easy options below. Gifts processed in this system are not tax deductible, but are predominately used to help meet the local financial requirements needed to receive national matching-grant funds.
Subscribe now to get breaking news alerts in your email inbox
Get breaking news delivered to your inbox as it happens.
---