News > Spokane
DNA evidence languishing in labs
Tue., April 26, 2005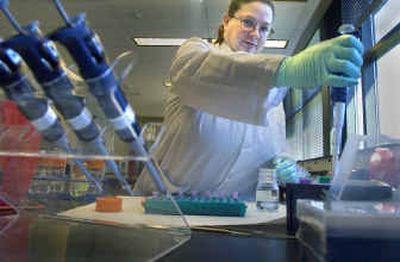 A study by Washington State University found that up to 278,000 unsolved rape and homicide investigations nationwide have biological evidence that hasn't been tested for DNA because of backlogs at local and state crime laboratories.
Professors polled 70 forensic laboratories and law enforcement agencies in all 50 states. The results show that DNA analysis remains a woefully underused technology in investigating felony assault cases, said Travis Pratt, an associate professor of criminal justice at WSU.
Based on the responses from the law enforcement agencies, the study concluded that as many as 432,000 rapes and homicide cases dating back 20 years remain unsolved. Of those, 221,000 to 278,000 have potential DNA evidence that has not been tested.
"Our first goal was to establish what the backlog is," Pratt said. "When we established that, I think we were all a bit surprised how big it was. The secondary problem is this technology really is not being used to its full potential in terms of investigations for open cases."
Spokane police major crimes detectives have complained for years that they can't get timely responses on requests for DNA testing on some cases sent to the Washington State Crime Laboratory. It began taking cases at the new Cheney facility in March after moving from the cramped quarters in the basement of Spokane's Public Safety Building.
Lab manager Kevin Fortney said he understands the detectives' frustrations. But the lab had been operating in cramped quarters with not enough equipment or employees to keep up with the increased number of requests for DNA testing.
However, Fortney said the new facility on the campus of Eastern Washington University has allowed the lab to reduce the backlog from more than 300 cases to about 230 cases.
"The agencies are very good to work with because they understand our plight," Fortney said. "But we also need their cooperation."
At the Cheney lab, as with many labs across the country, investigations in which detectives have already developed a suspect and a court date get priority over cases in which detectives don't have a clue who committed the crime.
"Court dates are important," Fortney said. "They can't get things started in court until everything is in place."
But detectives can also help their own cause, he said.
"If an agency submits a case and they are calling on it, which shows there is an active investigation, we will spend some time on it, too," Fortney said.
The WSU study identified the "court date" requirement as a major problem throughout the country, Pratt said. Some 25 percent of police officials polled said they weren't even sending biological evidence to the lab because they didn't have a suspect in a case.
And when they did send in evidence, some law enforcement officials told the professors that they were forced to wait more than two years for lab results in cases that were not deemed to be of "major significance."
"What that demonstrates is that DNA evidence is not being used as a tool to identify offenders," Pratt said. "The question is how can this technology be used better?"
Fortney, whose lab serves most of Eastern Washington, said the forensic scientists have listened when detectives make requests on cold cases, or investigations that have gone unsolved for some time.
"Cold cases have become more of a priority," he said. "And that's not only for Spokane and Spokane County. More counties are going back to their old unsolved homicides, pulling evidence out and reassessing them."
The best local example came in 2003 when Spokane County sheriff's detectives finally got back results of DNA testing on an unsolved murder from 1982.
On Sept. 26, 1982, 15-year-old Linda Strait disappeared after she walked two blocks to a Safeway to purchase a gallon of milk and a hair perm kit.
The next day, a fisherman spotted her body floating in the Spokane River, just downstream from Plantes Ferry Park. She had been raped and strangled.
Stuffed inside her sweat shirt, detectives found an embroidered pillowcase with semen stains.
A team of sheriff's detectives eventually interviewed nearly 1,000 people – including the man later charged with the crime, Arbie Dean Williams – but the stains on the pillowcase broke the case.
In 1982, only blood typing was available. Detectives tried the new DNA testing method in 1989, but those results were inconclusive. More DNA tests in 1998 reached a similar dead end.
Meanwhile, new technology was developed that allowed scientists to generate DNA profiles from much smaller samples of evidence.
The same pillowcase stains were sent to a private crime lab in April 2003. Those results came back a month later and compared to existing samples in the state's DNA database for convicted felons.
A match was found in Williams, 61, who was awaiting a parole hearing after he confessed in 1983 to kidnapping two 8-year-old girls from Trent Elementary School in Spokane Valley. Williams remains in custody on a $1 million bond and is awaiting trial for Strait's killing.
Weeks after Williams was charged, Fortney said it would take five years to complete all the pending DNA requests even if the lab took no new cases
"It has improved. The new lab in and of itself is going to assist us in getting caught up," he said.
For example, the lab turned down a third high-tech machine that processes the DNA because it physically didn't have room for it at the old lab. That new machine has been put in place and a federal grant has made it possible to hire three new DNA analysts, he said.
"We have also been able to send cases to sister labs in Marysville, Seattle and Tacoma," Fortney said.
Funding is the other major problem mentioned by the law enforcement agencies across the country, said Pratt, who compiled the data for the study in 2003 along with WSU professors Michael Gaffney and Nicholas Lovrich.
Many departments don't have adequate space to store evidence for a period of years, Pratt said.
"At the time of the data collection, 80 percent of local crime labs' funding came from local sources," Pratt said. "Up until recently, the federal contribution has been minimal. But there was a step in the right direction this past year."
Some police agencies, such as Spokane police, often pay for a private lab to test DNA to get quicker results.
"That's another deterrent, especially if local police stations are being charged for this process," Pratt said. "It's expensive and time consuming. They are much more likely to use the traditional investigative tools."
Local journalism is essential.
Give directly to The Spokesman-Review's Northwest Passages community forums series -- which helps to offset the costs of several reporter and editor positions at the newspaper -- by using the easy options below. Gifts processed in this system are not tax deductible, but are predominately used to help meet the local financial requirements needed to receive national matching-grant funds.
Subscribe now to get breaking news alerts in your email inbox
Get breaking news delivered to your inbox as it happens.
---