News > Business
It flies! But will the A380 sell?
Thu., April 28, 2005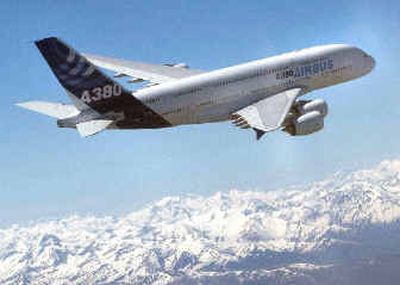 BLAGNAC, France — Among the hordes of spectators watching the world's largest passenger plane take flight was one holding a banner that read: "Fly Baby, Fly."
And, fly it did. The question now is: Will it sell?
After its first test flight Wednesday, the Airbus A380 touched down with puffs of smoke from its 22 outsize wheels, the screech of rubber on asphalt drowned by cheering from an estimated 30,000 onlookers around Blagnac's airport.
Plane enthusiasts were everywhere in this part of southwestern France. Many camped overnight in a rock festival atmosphere, and whole families applauded the superjumbo's faultless takeoff and landing with passion.
"There is nothing comparable to this in the universe," said Jean-Claude Antoine, 60, a retired plumber, perched on a hill overlooking the airstrip outside Toulouse — the same tarmac where the now-retired supersonic Concorde embarked on its own maiden voyage 36 years ago.
The A380's four-hour sortie past the snowcapped Pyrenees removed any doubt that the behemoth capable of carrying as many as 840 passengers is airworthy. But it did little to convince skeptics, led by U.S. rival Boeing Co., that the plane will prove profitable.
Flying the plane was as easy as "riding a bicycle," pilot Jacques Rosay said. Engineer Fernando Alonso said the crew enjoyed an "extremely comfortable" flight.
"Now shareholders can sleep better at night," chief flight engineer Gerard Desbois added.
But the hats stayed on in Seattle, home to a sizable part of Boeing's operations. The superjumbo is "a very large airplane for a very small market," Boeing spokesman Jim Condelles said.
"First flights are always very interesting and exciting. It's an engineering accomplishment that Airbus should be very proud of," he said. "We just don't see a market for 1,250 of these airplanes over the next 20 years."
Condelles was referring to Airbus' global market forecast for very large jets. Boeing sees demand for just 400 jets with 450 seats or more.
If Airbus is right, it could enjoy a near-monopoly in that market while Boeing scrambles to produce a competitor.
Local journalism is essential.
Give directly to The Spokesman-Review's Northwest Passages community forums series -- which helps to offset the costs of several reporter and editor positions at the newspaper -- by using the easy options below. Gifts processed in this system are not tax deductible, but are predominately used to help meet the local financial requirements needed to receive national matching-grant funds.
Subscribe now to get breaking news alerts in your email inbox
Get breaking news delivered to your inbox as it happens.
---