News > Pacific NW
Ephrata boy pleads guilty to murder
Fri., April 29, 2005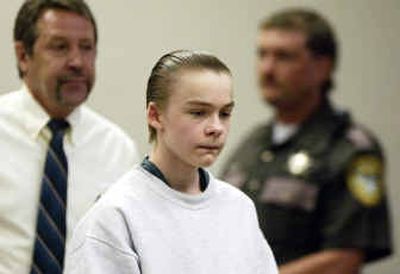 EPHRATA, Wash. – One of two boys accused in the beating and stabbing death of a 13-year-old special-education student pleaded guilty to second-degree murder Thursday, admitting that he watched his co-defendant kill Craig Sorger and did not try to stop the attack.
The confession came more than two years after the brutal 2003 killing of Craig Sorger at a recreational-vehicle park in this Central Washington town.
Jake Lee Eakin, 14, also agreed to testify against co-defendant Evan Savoie, 14, of Ephrata, Grant County Prosecutor John Knodell said. The trial is expected to proceed as scheduled May 16, but with just one defendant.
The defendants were 12 years old when Sorger was attacked, and are believed to be the youngest murder defendants ever tried as adults in Washington state. They've been in juvenile detention since they were charged with first-degree murder in the case.
Eakin – from Moses Lake, about 15 miles southwest of Ephrata – pleaded guilty to second-degree murder by complicity under a plea deal.
Prosecutors recommended an eight-year sentence in juvenile detention – less than the standard-range penalty of between 10 and 18 years. Grant County Superior Court Judge Ken Jorgensen imposed a midrange sentence of 14 years.
The families of all three boys sat separately in the packed courtroom, weeping as attorneys described the brutal slaying publicly for the first time. They declined to speak with reporters afterward.
Eakin, shackled at the ankles and wearing an oversized gray sweat shirt, put his head down on the defense table and sobbed early in the hearing.
But he showed no emotion when he entered his guilty plea and then read a prepared statement. He faced the judge with his back to the Sorger family, seated in the front row.
"I'm sorry that I brought so much pain and broken hearts to your family. I just wish that I could do something to fill the missing hole in your family, and I made a mistake and caused that hole," Eakin said.
He said he admitted his role in the case because his lies were causing nightmares.
"I didn't want your family to wonder any longer," he said. "I couldn't hide it any longer."
Police found Sorger's body at Oasis Park on Feb. 15, 2003. A medical examiner said the boy had been beaten and stabbed so severely that the tip of a knife was found in his skull.
The killing shocked this community of 6,800 people about 100 miles west of Spokane. Family members described Craig, a skinny brown-eyed blond, as a "goofy" kid with a sophisticated sense of humor. He liked drinking Irish coffee with his grandmother. He loved Hot Wheels, video games and catching turtles. Craig also was learning disabled, a special-education student at Ephrata Middle School who struggled socially.
When his body was found, police immediately questioned Eakin and Savoie because Craig had last been seen playing with them. Both denied any wrongdoing, but there were discrepancies in their stories, police said, and Craig's blood was found on their clothing. A judge then decided the boys should be tried as adults, a ruling that withstood appeal from defense attorneys.
Local journalism is essential.
Give directly to The Spokesman-Review's Northwest Passages community forums series -- which helps to offset the costs of several reporter and editor positions at the newspaper -- by using the easy options below. Gifts processed in this system are not tax deductible, but are predominately used to help meet the local financial requirements needed to receive national matching-grant funds.
Subscribe now to get breaking news alerts in your email inbox
Get breaking news delivered to your inbox as it happens.
---