News > Nation/World
Cluster of freeway shootings reminds L.A. of bad old days
Sat., April 30, 2005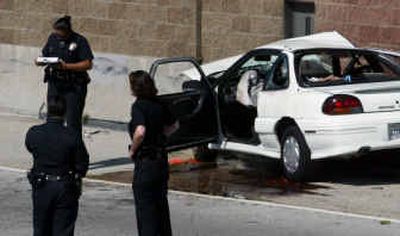 LOS ANGELES – A string of highway shootings since mid-March has left four people dead in Southern California and raised fears of a return to the bad old days of the 1980s, when the Los Angeles area gained a reputation for freeway gunplay.
Authorities have increased freeway patrols and considered installing recorders on roadside traffic cameras.
Five people have been shot in their cars in apparently unrelated – and definitely unsolved – attacks. In at least three cases, the shooters were in other cars.
Manny Padilla, a California Highway Patrol chief in Southern California, said the bloodshed may reflect frustration with gridlock.
"Driving behavior has changed tremendously with all the congestion here. That causes people to be extremely short-tempered and inconsiderate," he said. "The courtesy we used to extend often isn't there anymore."
Authorities said the overall number of shootings so far this year appears to about the same as in other recent years. But so many deaths in so short span have some motorists on edge.
"We just hope things don't get worse and go back to the way they were," Esmeralda Miller, 65, said Friday at a gas station.
Still, few appear ready to give up driving the freeways, a Southern California way of life.
Nestor Tuazon added several minutes to his daily commute but gained peace of mind by driving side streets instead of a stretch of freeway where two motorists have been killed in Los Angeles. But after two days, he returned to the fast lane.
"I'm just extra careful," said Tuazon, 49, who travels the 110 Freeway between his Los Angeles home and job at a Gardena nursing home, "but I will not stop taking the freeway."
In 1987, Southern California seemed to be America's road-rage capital, with nearly 70 highway shootings over 10 summer weeks, according to Ray Novaco, a psychology professor at University of California at Irvine, who has written about the violence. The shootings left at least five people dead and 11 wounded.
"It was novel phenomenon then, so people grabbed onto it," Novaco said.
Some motorists began carrying guns in self-defense, afraid that a bullet could be just one bad lane change away.
The shootings dropped off after 1987, and since 2001 have averaged around 40 a year in Los Angeles alone, according to police.
In March, a 26-year-old engineer was fatally shot in the head along an Orange County freeway. Over the weeks that followed, two motorists, including a 47-year-old car salesman on his way to Bible study, were killed in separate shootings on the 110 Freeway in Los Angeles. A fourth motorist was gunned down on a Riverside County freeway east of Los Angeles on April 22. A fifth was wounded in Orange County on Sunday.
In the shooting of the car salesman, police suspect he may have angered another motorist without knowing it by making a move in traffic. In Riverside County, witnesses reported the two cars may have been driving alongside each other before the attack, but police do not know why. Other shootings may have stemmed from disputes that began off the freeway, authorities said.
No one has been arrested, and authorities say they have found no links among the five shootings, which took place at different times and places.
As in 1987, the recent wave of shootings has sparked concerns about copy cat attacks, but police said there is no indication that is happening.
Local journalism is essential.
Give directly to The Spokesman-Review's Northwest Passages community forums series -- which helps to offset the costs of several reporter and editor positions at the newspaper -- by using the easy options below. Gifts processed in this system are not tax deductible, but are predominately used to help meet the local financial requirements needed to receive national matching-grant funds.
Subscribe now to get breaking news alerts in your email inbox
Get breaking news delivered to your inbox as it happens.
---