Sports
Boggs worked hard to be great
Mon., Aug. 1, 2005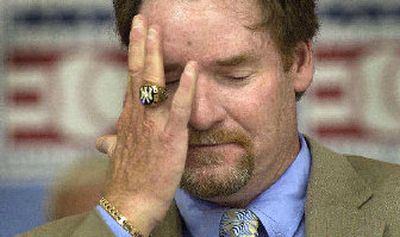 COOPERSTOWN, N.Y. – Wade Boggs led off, and about the only thing that could have been even more fitting was if he'd ridden a police horse across the pasture and through the Cubbie and Red Sox multitudes assembled for his and Ryne Sandberg's Hall of Fame inductions Sunday.
The man who won five batting titles for the Red Sox and one big ring for the Yankees, in and around slapping out 3,010 hits and 578 doubles, set the table for Sandberg with a concise 12 1/2 -minute speech that included salutes to George Digby, the one scout who believed in his ability; Walt Hrniak, the batting guru who molded him into one of the great contact hitters of all time; Johnny Pesky and Clete Boyer, who turned him into a Gold Glove third baseman; and George Steinbrenner, the owner who provided for him his only world championship.
It was vintage Boggs, the self-made player, taking us on his long journey of hard work and perseverance, from his Little League days in the Bayshore section of Tampa, to the six years of minor league apprenticeship and 18 years in the bigs, pausing only for emotion checks – as they all do – when he got to his dad and first coach, Winfield, and his late mom, Sue.
"Daddy," Boggs shouted, scanning the audience, "I wouldn't be here if it weren't for you. You were my mentor and my idol. Anyone can be a father, but it takes someone special to be a dad."
Boggs concluded by saying, "I am living proof dreams come true."
Local journalism is essential.
Give directly to The Spokesman-Review's Northwest Passages community forums series -- which helps to offset the costs of several reporter and editor positions at the newspaper -- by using the easy options below. Gifts processed in this system are not tax deductible, but are predominately used to help meet the local financial requirements needed to receive national matching-grant funds.
Subscribe to the sports newsletter
Get the day's top sports headlines and breaking news delivered to your inbox by subscribing here.
---