News > Nation/World
Bush offers Scouts sympathy
Mon., Aug. 1, 2005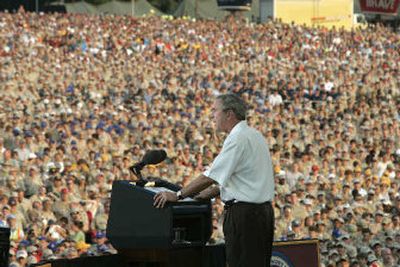 BOWLING GREEN, Va. – Succeeding on his third try to visit them, President Bush comforted thousands of Boy Scouts on Sunday at a national jamboree marred by the electrocutions of four leaders and stifling heat that sickened 300.
"The men you lost were models of good citizenship," Bush told the estimated 50,000 Scouts, leaders and visitors attending the event near Bowling Green, Va., where boys yelled "Boy Scouts Rock!"
"As Scout leaders, they devoted themselves to helping young men develop the character and skills they need to realize their dreams. These men will always be remembered for their leadership and kindness, and you Scouts honor them by living up to the ideals of the Scouting they served."
Marine One landed in a grassy field, and Bush, a former Cub Scout in Texas, was ferried by van to a stage where he was met by a sea of cheering Scouts wearing fatigue green uniforms covered with colorful patches and badges.
As the sun set, Bush told the crowd that the first man he sees many mornings, chief of staff Andy Card, is a former Scout from Massachusetts; Vice President Dick Cheney was a Boy Scout in Wyoming; and Defense Secretary Donald Rumsfeld was an Eagle Scout in Illinois.
Bush's speech was about patriotism and community and military service to the nation, but he also recalled how his mother, former first lady Barbara Bush, was the den mother of his Scouting troop. "It's about the time her hair turned white," he joked.
Before Bush arrived on stage, an Army band performed and a man wearing an Army T-shirt led groups of Scouts in chants of "oo-rah" and "U.S.A." Tall pines provided a backdrop for blue, red and black hot air balloons emblazoned with military and Scouting emblems.
It was Bush's third attempt to travel to Fort A.P. Hill, the Army base hosting the jamboree where Scouts are trying to end their 10-day gathering with cheery memories of mountain biking, fishing, scuba diving and trading patches with newfound Scouting friends across the nation.
On Wednesday, Scouting enthusiasts waited hours in the heat for Bush, who later canceled his appearance because of threatening storms. Scouts began collapsing from high humidity and temperatures in the high 90s. More than 300 people were treated for heat-related illnesses.
Bush's second attempt to visit the jamboree was postponed from Thursday at the Scouts' request. Officials wanted to review safety procedures for large crowds and replenish water and other supplies.
Local journalism is essential.
Give directly to The Spokesman-Review's Northwest Passages community forums series -- which helps to offset the costs of several reporter and editor positions at the newspaper -- by using the easy options below. Gifts processed in this system are not tax deductible, but are predominately used to help meet the local financial requirements needed to receive national matching-grant funds.
Subscribe now to get breaking news alerts in your email inbox
Get breaking news delivered to your inbox as it happens.
---