News > Spokane
Chick Magnet attracts duffers in need of help
Mon., Aug. 1, 2005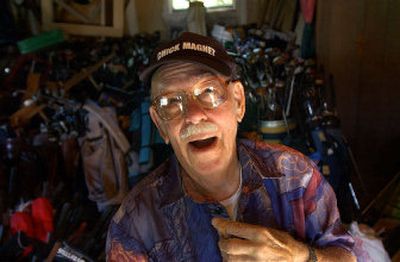 In Spokane Valley, when golfers hit a midsummer funk and look for something to turn their game around, there are two routes to take.
They can take the long drive down Sprague Avenue, stopping at discount stores and specialty shops, to sample the latest winning clubs from the PGA Tour, clubs signed by Tiger and Vijay and Sergio, clubs that almost quiver with the promise of finding the hole like a dowser finds water.
Or, they can detour off Sprague's seven lanes, following a series of homemade signs pointing north down the rabbit hole that is Corbin Road, past a Greenacres grade school and homes as decorated for Christmas in August as they are in December, to the driveway of the Chick Magnet.
The Chick Magnet is 84-year-old Jess Clements, who wears a black cap with the aforementioned name printed above the bill, as he pulls a near-antique putter from a hole in his chain-link fence at 415 N. Corbin Road and inspects the club's label as if it were vintage wine.
He speaks softly, in barely audible praises for a tool of the game that he loves so much, a game he no longer plays, having been slowed by a series of small strokes.
The Chick Magnet's garage is a repository of latest best things that are no longer latest or best – clubs to make your putts straighter, your drives longer, your pitching wedges wedgier. There are as many cures for bad golf as the common cold or teen acne, and every season produces another crop of panaceas in both righties and lefties.
"I think he goes and buys them at garage sales. He's a collector," said Bill Giles, a former golfing buddy of Clements. "I used to go down there when he had trouble with his furnace and something needed to be fixed. So, one day he gave me this club. It's a putter. I guess it's a Ping, and according to him it's quite valuable in terms of age."
Clements opens for business most Saturday mornings and stays open until he's made $80, the price for which he might sell one bag of clubs. In this garage, bags of clubs are stacked like cordwood, more than 100 deep.
Mostly there are bags filled with memories no one had the heart to throw out, clubs that meant something to someone who is no longer golfing, maybe even no longer breathing.
These are the average-guy clubs. The best ones are kept in Clements' living room, in the kitchen beside the counter, in places where they can be easily produced and admired.
But there are also ancient wood drivers resembling billiard balls with long wooden handles, and "space age" putters that are more Buck Rogers than Neil Armstrong.
"Tony Penna," Clements says quietly as pulls a 3-wood from a bag and holds it upside down to inspect the insignia on its sole. The club is almost to his chin and he cradles it like a brandy snifter. "He was a professional golfer a long time ago."
There's a vintage Burke putter designed to ring like a tuning fork when the ball is struck just right and a Tom Weiskopf 3-iron. The mere mention of Weiskopf, winner of 15 PGA Tour titles and the 1973 British Open, brings a smile of reminiscence to the face of Clements, for whom most of these clubs still have a special energy.
Clements taught himself how to play golf as a 9-year-old growing up in Indianapolis. He was obsessed with the game. As a young man, he joined the Merchant Marines and took his golf passion with him around the world. When his tour finally ended, he settled in Los Angeles and landed a job as a parking lot attendant across the street from Warner Bros. studios in Hollywood.
He chatted up the movie stars as they came and went, eventually getting invited to play a few rounds for money – nothing serious, just a few nickels a hole. Actors like Bobby Jordan, of "Dead End Kids" fame, and Jim Ellison, who played Buffalo Bill opposite Gary Cooper in "The Plainsman" and later did two seasons as Johnny Nelson on "Hopalong Cassidy."
"Jim Ellison, I met him on the course," Clements said. "They threw me in with him. I didn't know he was a big shot in the studios."
Clements' own claim to fame is a career seven holes in one, eight if you count one ball sunk on a temporary winter course years ago, which Clements does not. Most of Clements' holes in one came on courses around Spokane, where he moved decades ago while fleeing an unpleasant divorce. There are golfers with more holes in one, but there are even more with fewer.
"It's funny. A guy like Jess, you figure the chances of having a hole in one are about one in 5,000, that's what the insurance companies who do hole-in-one contests estimate," said Bob Scott, the pro at MeadowWood Golf Course in Liberty Lake. "I wouldn't doubt that he has seven."
What the pro questions, however, is whether Clements' clubs are as good as the ones on Sprague Avenue. Maybe before the 1980s, Scott said, before the material used for making clubs truly did become space-age.
As for the Chick Magnet, he knows that what's best is sometimes in the past and what's next will never measure up.
Local journalism is essential.
Give directly to The Spokesman-Review's Northwest Passages community forums series -- which helps to offset the costs of several reporter and editor positions at the newspaper -- by using the easy options below. Gifts processed in this system are not tax deductible, but are predominately used to help meet the local financial requirements needed to receive national matching-grant funds.
Subscribe now to get breaking news alerts in your email inbox
Get breaking news delivered to your inbox as it happens.
---