News > Nation/World
Heavy rains slow relief in Bombay
Mon., Aug. 1, 2005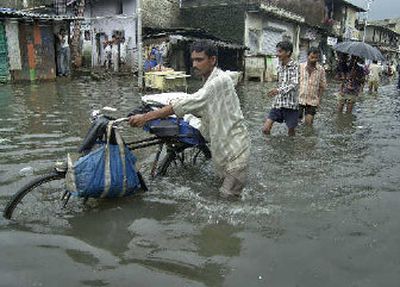 BOMBAY, India – Authorities warned residents to remain at home Sunday after heavy rains fell again across Bombay and surrounding areas hammered last week by devastating floods, with more than 900 people now reported dead.
Cleanup efforts and the distribution of food supplies to needy residents were slowed by the renewed monsoon rains, which began early Sunday. Aviation officials ordered the city's airports – the busiest in the country – closed for seven hours because of poor visibility.
Officials, meanwhile, said the death toll from the recent rains could reach 1,000.
The recovery over the weekend of more than 100 bodies pushed the official death toll to 910. On Sunday, officials said more bodies were likely to be recovered from flood-devastated districts.
"The bodies are still coming out. There will be another 100 or so," said K. Vatsa, state rehabilitation secretary. "The toll will definitely be around 1,000."
But efforts to pull out the remaining bodies were hampered by incessant rainfall and mounds of debris, boulders and mud tangled into the remains of homes.
"The rains are making retrieval difficult," Vatsa said.
With renewed rains, Bombay police asked people to stay home due to rising water levels. The new storms come five days after crippling rains pounded western India – reaching a record 37 inches in suburban Bombay.
"We're asking people to travel only if essential," said Bombay's police chief A.N. Roy. Schools were ordered closed in Bombay and three other districts due to flooding.
Local journalism is essential.
Give directly to The Spokesman-Review's Northwest Passages community forums series -- which helps to offset the costs of several reporter and editor positions at the newspaper -- by using the easy options below. Gifts processed in this system are not tax deductible, but are predominately used to help meet the local financial requirements needed to receive national matching-grant funds.
Subscribe now to get breaking news alerts in your email inbox
Get breaking news delivered to your inbox as it happens.
---