News > Nation/World
Iran threatens to restart some nuclear activity
Mon., Aug. 1, 2005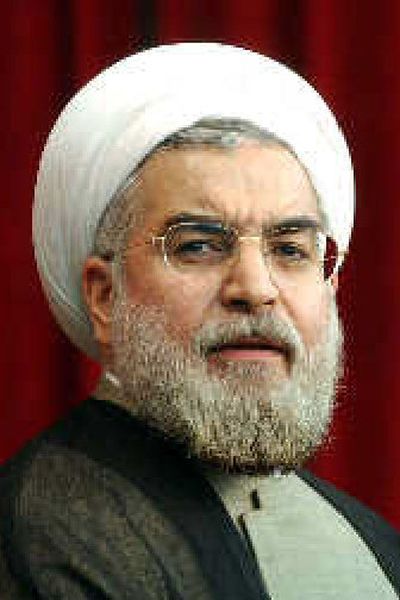 TEHRAN, Iran – Iran threatened Sunday to restart some suspended activities that could be used to make atomic weapons if European negotiators do not immediately offer a promised package of incentives to entice Tehran to freeze its nuclear program.
A senior European diplomat said the negotiators from Britain, France and Germany were just days away from making Tehran a "generous" offer that could include guarantees that Iran will not be invaded if it agrees to permanently halt uranium enrichment.
But Iran's nuclear negotiator Hasan Rowhani turned up the pressure for an immediate proposal by warning that Iran was preparing to restart uranium reprocessing work at its Isfahan Nuclear Conversion Facility, the state-run Islamic Republic News Agency reported.
The Isfahan plant converts uranium ore concentrate, known as yellowcake, into uranium gas, the feedstock for enrichment. Uranium enriched to high levels can be used for nuclear bombs; at low levels it is used as fuel for nuclear energy plants.
Iran's top officials were to decide Sunday evening whether to restart the Isfahan plant, said Ali Agha Mohammadi, a spokesman for Iran's Supreme National Security Council.
"Europe has only a few hours, up to when the council meets, (to file its) proposal. If it does not arrive by that time, the council will discuss breaking the ice" on Iran's stalled nuclear program, Agha Mohammadi told state radio Sunday.
The Iranian statements triggered alarms in Paris, London and Vienna, Austria, with a British official labeling them a "dangerous step."
But Rowhani still held out the possibility of a coming "understanding" with EU negotiators.
Iran suspended uranium enrichment in November under international pressure led by the United States, which suspects Tehran's nuclear program is aimed at trying to make weapons and once labeled Iran part of an "axis of evil." Iran maintains its program is peaceful and has long said its decision to suspend all uranium enrichment-related activities was voluntary and temporary.
France, Britain and Germany, acting on behalf of the 25-nation European Union, had been expected to present their incentive package to Iran by the beginning of August, but they requested a delay until Aug. 7.
The European diplomat accredited to the Vienna-based International Atomic Energy Agency said the three nations plan to hand over their deal next week and would not be rushed by Iranian pressure.
The package could include nuclear fuel, nuclear technology and security guarantees, although no one can give a "100 percent guarantee" against invasion, said the diplomat, who spoke on condition of anonymity because he is not authorized to discuss the confidential negotiations with the media.
If Iran does resume production of uranium gas at Isfahan as threatened, the Europeans would call for an emergency IAEA board meeting, the diplomat said. That meeting would likely set a deadline for Iran to "see the error of their ways" and stop all enrichment-related activities.
If the deadline is not met, then the Europeans – with American support – would push to have Iran referred to the U.N. Security Council for breaking their promise to desist from work linked to uranium enrichment as long as the talks with the Europeans continue. The council could impose sanctions on Iran.
Local journalism is essential.
Give directly to The Spokesman-Review's Northwest Passages community forums series -- which helps to offset the costs of several reporter and editor positions at the newspaper -- by using the easy options below. Gifts processed in this system are not tax deductible, but are predominately used to help meet the local financial requirements needed to receive national matching-grant funds.
Subscribe now to get breaking news alerts in your email inbox
Get breaking news delivered to your inbox as it happens.
---