News > Nation/World
Sudanese leader presumed dead
Mon., Aug. 1, 2005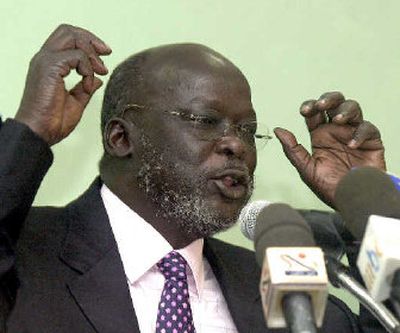 KHARTOUM, Sudan – A rebel official said Sudan's vice president, a former rebel leader and a key figure in the country's fledgling peace deal, was killed in a helicopter crash. Search crews reached the site early today and found a body they believe to be that of John Garang, a U.N. official said.
An official in Garang's Sudan People's Liberation Army told the Associated Press that Garang's death had been confirmed.
Ugandan and Sudanese forces had been searching for John Garang's helicopter since Sunday, and Uganda's president said it had crashed in bad weather in the border region between the two countries.
Garang's absence would be a heavy blow to the January peace deal that ended a 21-year civil war between the mostly Muslim north and the Christian and animist south in which some 2 million people died.
The 60-year-old former rebel, who was sworn in as vice president just three weeks ago, left on a flight from Uganda for southern Sudan at 5:30 p.m. Ugandan time Saturday afternoon, Sudanese and Ugandan officials said. It was not clear when the last contact with his craft took place.
His helicopter had attempted to land in the New Kush region of southern Sudan but aborted the landing because of bad weather and headed back south, Ugandan President Yoweri Museveni said early today. Weather reports showed rain in the area.
The craft was heard near Pirre, a mountainous region near the Kenyan and Sudanese borders, and was believed to have crash-landed, Museveni said. He added that the Kenyans had been asked to help in the search.
Sudanese state television reported Sunday night that Garang's craft had landed safely, but Communications Minister Abdel-Basit Sabdarat went on TV hours later to deny the report.
Garang, who earned a doctorate from Iowa State University, is seen as the sole figure with the weight to give southern Sudanese a role in the Khartoum government, which they deeply mistrust. He also was a strong voice against outright secession by the south, calling instead for autonomy and power-sharing.
Local journalism is essential.
Give directly to The Spokesman-Review's Northwest Passages community forums series -- which helps to offset the costs of several reporter and editor positions at the newspaper -- by using the easy options below. Gifts processed in this system are not tax deductible, but are predominately used to help meet the local financial requirements needed to receive national matching-grant funds.
Subscribe now to get breaking news alerts in your email inbox
Get breaking news delivered to your inbox as it happens.
---