Sports
Trade deadline passes with no blockbusters
Mon., Aug. 1, 2005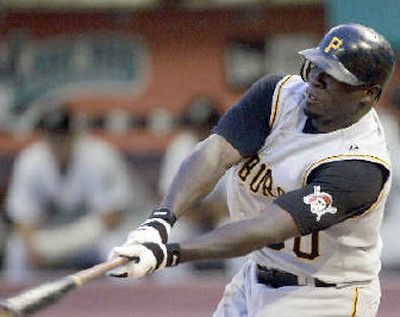 NEW YORK – Manny Ramirez, Alfonso Soriano, A.J. Burnett and Mike Cameron all stayed with their teams as baseball's non-waiver trade deadline passed with only five low-level deals involving 11 players.
Outfielder Matt Lawton was the highest-profile player to switch sides Sunday, going to the Chicago Cubs from the Pittsburgh Pirates for outfielder Jody Gerut.
"As you can see by the strange nature of this year, I think we are all shocked how few deals in the game were made," Cubs general manager Jim Hendry said.
The trade that would have made the most news never happened. Boston had discussed a three-team trade with Tampa Bay and New York that would have sent Ramirez to the Mets. New York would have included Cameron and outfielder Lastings Milledge, the 12th overall pick in the 2003 amateur draft. Tampa Bay would have dealt Aubrey Huff, Danys Baez and Julio Lugo.
"At the end of the day, Boston made the decision that Manny Ramirez was going nowhere," Devil Rays general manager Chuck LaMar said. "The Tampa Bay Devil Rays are the ones that proposed the deal. … All I know is I wasn't going to give them away, and that's what some of the teams, honestly, with the prospects they were giving back were asking us to do."
Ramirez, held out of Boston's starting lineup for the second straight day, pinch hit 54 minutes after the 4 p.m. deadline passed and singled in the go-ahead run to lead the Red Sox over the Minnesota Twins 4-3 at Fenway Park.
"Forget about the trade. This is the place I want to be," Ramirez said. "They want to win. I want to win, too. I'm back."
Minnesota, the Mets and the Cubs were said to be interested in obtaining Soriano from Texas.
"The type of deals that were presented to us did not make sense," Texas general manager John Hart said. "We never got close. We countered on a lot of players, discussed a lot of possibilities, but we never got close to what we considered to be a deal that was going to help the Rangers."
Last year, there were eight trades in the hour before the deadline, and Nomar Garciaparra, Steve Finley, Esteban Loaiza and Orlando Cabrera were among the players who switched teams.
With about two-thirds of the 30 teams thinking they have a chance at postseason play, there were far more buyers than sellers this year. Boston general manager Theo Epstein likened the market to a $100 gallon of milk.
"Things are good with Manny right now. I think you have to take him at his words," Epstein said. "He's really happy to be here. This is where he wants to be. … As we demonstrated through our actions in the end, we want Manny, too."
In Sunday's other trades:
"The Chicago White Sox acquired third baseman Geoff Blum from San Diego for left-hander Ryan Meaux.
"The Atlanta Braves obtained reliever Kyle Farnsworth from Detroit for right-handers Roman Colon and Zach Miner.
"Arizona got left-hander Buddy Groom from the New York Yankees for a player to be named or cash.
On Saturday, Seattle sent outfielder Randy Winn to San Francisco for catcher Yorvit Torrealba and pitcher Jesse Foppert and dealt Miguel Olivo, who started this season as the Mariners' No. 1 catcher, to San Diego for catcher Miguel Ojeda and right-hander Nate Mateo. Boston acquired outfielder Jose Cruz Jr. and cash from Arizona for infielder Kenny Perez and right-hander Kyle Bono.
On Friday night, Texas agreed to trade pitcher Chan Ho Park and $6 million to San Diego for slugger Phil Nevin and Colorado sent outfielder Eric Byrnes to Baltimore for outfielder Larry Bigbie.
Marlins general manager Larry Beinfest decided more than a week ago not to trade Burnett or third baseman Mike Lowell. Florida did make a deal Sunday, acquiring reliever Ron Villone from Seattle for right-handers Yorman Bazardo and Mike Flannery.
"I love playing here," Lowell said. "I grew up here in Miami. I have all the conveniences in the world. But if I was sent somewhere else, I'd play hard and I'd love baseball. This season, baseball has tried to make me hate it – but I enjoy it too much, enjoy the game too much."
Yankees general manager Brian Cashman failed to get a center fielder.
"I just felt that ultimately, these things are going to get fixed from the inside, not the outside," he said. "I feel good about what we've done to date. I think we have a great team."
Mets manager Willie Randolph wasn't bothered that his team didn't get anyone new.
"I'm ready to go into the rest of the season with the guys I have," he said.
Local journalism is essential.
Give directly to The Spokesman-Review's Northwest Passages community forums series -- which helps to offset the costs of several reporter and editor positions at the newspaper -- by using the easy options below. Gifts processed in this system are not tax deductible, but are predominately used to help meet the local financial requirements needed to receive national matching-grant funds.
Subscribe to the sports newsletter
Get the day's top sports headlines and breaking news delivered to your inbox by subscribing here.
---