News > Spokane
Blind chiropractor acutely attuned to his patients' pain
Tue., Aug. 2, 2005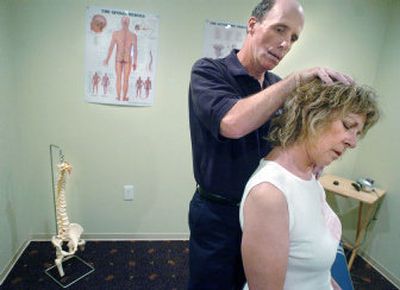 Patients see Spokane chiropractor Brian Flake because of his gift for feeling their pain.
"When they lie on the table, I know just what to do," Flake said.
When they hop off the examining table, he knows they have smiles on their faces, though he cannot see them. Retinitis pigmentosa, a hereditary and degenerative eye disease, has robbed him of his sight. There is no cure. He believes blindness has heightened his other senses, helping him to locate and adjust the muscular-skeletal problems of his patients.
"I listen a lot more, and if you just listen, the patient will tell you what's wrong," said the lanky man with the strong hands. "It's really an art."
Technology has helped the 56-year-old chiropractor overcome many disadvantages of blindness. Speech-output software reads back to him in a computer voice the words he types on a Braille keyboard. He records patient interviews for transcription later. His office manager, Carole Baldwin, takes care of billing and insurance and reads him X-ray reports.
But what really makes his chiropractic practice possible is the 1 ½-year-old yellow Labrador retriever resting on the floor of Flake's office at 608 W. Garland. Tiffany means independence to Flake. The guide dog escorts him from his home on West 39th Avenue to the bus stop, through a transfer at the downtown STA Plaza and to work.
Tiffany also accompanies Flake on his morning hour-long run around Hart's Field on Spokane's South Hill.
"The more you work these dogs, the better they are," Flake said.
Tiffany is Flake's third guide dog since his sight, which steadily declined throughout life, began to rapidly deteriorate at age 40. Dog and man trained together for two weeks at Pilot Dogs Inc., a nonprofit organization and school in Columbus, Ohio.
It is important for people to remember to resist the temptation to pet, talk to or otherwise distract guide dogs. They must stay focused on their job.
Arthritis forced the "retirement" of Flake's last dog, Speedy, after 13 years.
Without dogs, Flake would have been unable to graduate from Palmer College of Chiropractic in Davenport, Iowa, in 2002. Before that, he was a massage therapist at the Denver Athletic Club in Colorado.
"I would not be practicing without the independence" these dogs provide, Flake said.
He stresses that he practices gentle chiropractics as opposed to "cracking" adjustments. He said his patients' problems are caused by an overworked nervous system as a result of blockage, not unlike a kink in a hose that blocks the flow of water. Being able to straighten out the kinks gives Flake great satisfaction.
"You're helping others become better physically, mentally and emotionally," he said. "When you're hurt, your whole life suffers."
Local journalism is essential.
Give directly to The Spokesman-Review's Northwest Passages community forums series -- which helps to offset the costs of several reporter and editor positions at the newspaper -- by using the easy options below. Gifts processed in this system are not tax deductible, but are predominately used to help meet the local financial requirements needed to receive national matching-grant funds.
Subscribe now to get breaking news alerts in your email inbox
Get breaking news delivered to your inbox as it happens.
---