News > Spokane
Miss Everett Teen headed to boot camp
Tue., Aug. 2, 2005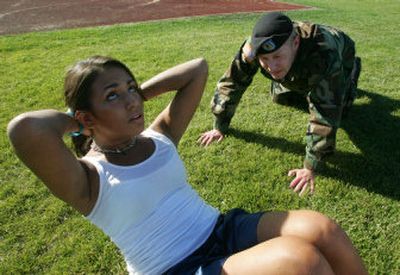 EVERETT – Miss Everett Teen USA 2004 is putting away her sash to put on a U.S. Army uniform.
Last summer, Jennifer Cabanayan appeared at community events, including the Mukilteo Lighthouse Festival and the National Night Out Against Crime, as Miss Everett Teen USA 2004. Now she has enlisted in the Army and will leave for boot camp at Fort Jackson, S.C., on Aug. 11.
The petite brunette says Army service has always been in the back of her mind.
"I'm capable; I'm healthy. This is the right thing to do," said Cabanayan, who attended Cascade and Marysville-Pilchuck high schools before earning her GED. "I cannot wait for that moment of putting on a uniform. It gives you that honor."
Paulene Saylor, Cabanayan's mother, said her daughter comes from a military family. Saylor's father, Otis Saylor of Stanwood, served two tours in Vietnam with an Army airborne unit. His granddaughter will follow in his boot steps. After basic training, she'll go to airborne jump school at Fort Benning, Ga.
"I've shed a lot of tears, but I'm really proud of her. I encouraged my boys to join the military. I didn't think she was listening," said Saylor, a mother of four whose oldest son was in the Navy.
The Sept. 11, 2001, attacks brought personal loss. A family friend died, one reason Cabanayan was compelled to join the war on terror. London's deadly bombings July 7 made her certain.
Nearly four years ago, Cabanayan was getting ready for school when she heard her mother scream. "I thought it was a movie," she said of TV images of planes flying into the World Trade Center towers. "All my friends have grown up so fast. Current events, that's not just a class."
Their friend Amy Jarrett was a 28-year-old flight attendant on United Airlines Flight 175, the plane that crashed into the second tower. "Every one of those people who died had families and friends," Cabanayan said. "I never thought it would hit home."
The Miss Everett Teen USA title was a way to have a voice. "If smaller kids think you're a princess, they might listen more," Cabanayan said. Last November, she competed in the state pageant. Her Everett reign ended in May.
What's ahead for Cabanayan is far from the glitzy world before the TV cameras.
Otis Saylor, who's been teaching his granddaughter how to lace paratrooper boots, said she "doesn't have the slightest idea" of the trials to come. "Boot camp is not an easy thing," the 62-year-old Saylor said. "She thinks it's going to be a picnic."
As a woman, Cabanayan can't go into combat roles, but support roles could put her in areas of combat.
Cabanayan hopes to go to college on benefits earned during three years of active duty. Advertising and fashion merchandising strike her fancy.
Local journalism is essential.
Give directly to The Spokesman-Review's Northwest Passages community forums series -- which helps to offset the costs of several reporter and editor positions at the newspaper -- by using the easy options below. Gifts processed in this system are not tax deductible, but are predominately used to help meet the local financial requirements needed to receive national matching-grant funds.
Subscribe now to get breaking news alerts in your email inbox
Get breaking news delivered to your inbox as it happens.
---