News > Idaho
Those magnificent folks in their flying machines
Wed., Aug. 3, 2005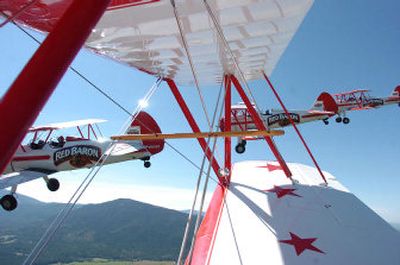 John Bowman only sits about 15 feet from his co-workers, but workplace banter is simply impossible.
To communicate over the drone of his Stearman biplane's 450-horsepower engine, Bowman makes a series of jerky head movements.
The three other pilots in the Red Baron Squadron follow Bowman's lead as he initiates barrel rolls, loopty-loops, hammerhead turns and a mix of other stomach-unfriendly maneuvers. For the past two days, the squadron has been performing each afternoon over the skies of Silverwood Theme Park in Athol, Idaho.
The wingtips of the squat, powerful planes are only 6 feet apart during some of the tricks, but Bowman shrugged off the notion that it takes superhuman reflexes to remain safe. Practice, he said. Constant practice and an uncanny amount of trust.
Bowman compared his job with trying to drive a busy, curving freeway in bumper-to-bumper traffic at 70 mph. "The guys that fly with me are looking at my head the entire time. You better not ever look away," he said.
The little Stearmans made their names as military trainers during World War II and continued working long after the war spraying crop fields. Nearly 2,000 of the biplanes remain in service – about a fifth of the total number built by the Stearman Aircraft Division of Boeing. The Red Baron squadron has been flying since 1979.
A slot on the team is considered one of the best – and only full-time – barnstorming gigs left in the United States, Bowman said.
"There's no other company that has anything like it, except for the U.S. military," he said.
Even after 23 years flying with the group, Bowman said he still feels "magic" each time he performs tricks, but he said the weather conditions can sometimes be a drag in the open cockpit. Not that he expects a whole lot of sympathy.
"It's like the golf pro who wakes up and says, 'I don't want to go out to that blankety-blank golf course today,' " Bowman said, laughing. "It's a good thing I'm doing this because I don't have any other skills."
Local journalism is essential.
Give directly to The Spokesman-Review's Northwest Passages community forums series -- which helps to offset the costs of several reporter and editor positions at the newspaper -- by using the easy options below. Gifts processed in this system are not tax deductible, but are predominately used to help meet the local financial requirements needed to receive national matching-grant funds.
Subscribe now to get breaking news alerts in your email inbox
Get breaking news delivered to your inbox as it happens.
---