News > Features
Spokane will hold its own on art weekend
Thu., Aug. 4, 2005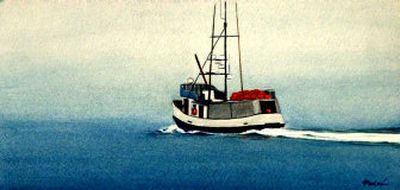 The downtown Spokane Art Walk is giving Art on the Green a run for its on money on Friday with dozens of art venues swinging open their doors for a free evening of art and music.
Among the new shows in the First Friday Art Walk is "Inside Passage — Random Images" at the GoodWorks Gallery. California artist Dimitri Pavloff's paintings were inspired by his first journey through Alaska's Inside Passage last September.
"I only paint subjects that touch or move me in some way," says Pavloff. "These scenes captured my interest and attention. Painting them has been a labor of love and respect."
"Dimitri's approach to watercolor," says gallery owner John Noble, "holds a crisp colorful honesty that gives the medium a refreshing clarity that is not often seen."
Lining the walls of the Chase Gallery in City Hall is a group show, "Art of the Palouse." The space is brimming with a variety of expansive landscapes by Susan Russell, Cheri O'Brien, Pat Tolle and Jack Dorsey.
Another major show opening is "Rivers of Lewis and Clark: Contemporary Artists Journey the Columbia Watershed Route" at the Kress Gallery in River Park Square.
The exhibit, presented by the Northwest Museum of Arts and Culture, includes stunning images by six regional artists: John Clement, Melissa Cole, Charlie Gurche, Pauline Haas, Janette Hopper and Jan Cook Mack.
The Lorinda Knight Gallery is launching a two-month show, "The Streets of Verona." Montana artist Doug Turman's abstract oil paintings on panel "contain colors, shapes and hints of architectural elements retained from the artist's recent Italy travels," says gallery owner Knight.
First Friday openings
All of the free receptions are from 5 to 8 p.m., unless otherwise noted. Here's a summary of stops on the self-paced walking tour:
• 123 Wireless Sprint Store, 172 S. Division St. — Designs by Lucinda women's pins to benefit YWCA Safe House; portraits, photography and illustrations by local artists.
• Artist's Tree Gallery, 828 W. Sprague Ave. – "Atmospherics," Meredith Dement's acrylic paintings.
• Avenue West Gallery, 1021 W. First Ave. – "Exotic Birds Too," watercolors and painted glass pieces by Nadine Kay.
• Chase Gallery, 808 W. Spokane Falls Blvd., City Hall – "Art of the Palouse," features paintings by Susan Russell, Cheri O'Brien, Pat Tolle, and Jack Dorsey.
• Empyrean, 154 S. Madison St., reception from 5 to 10 p.m. — A collection of recent works on canvas and paper from abstract expressionist painter Colleen Quinn. Live music
• Flour Mill Gallery, 621 W. Mallon Ave. – Fabric artist Dina Fernandez demonstrates bead and fiber embellishment technique used to create pillows and wall hangings. Darrell Sullens shows oil painting process. Shirley Hackett and Bob Stem host book signing of "Northwest Artists, A Collection of Works by Notable Northwest Artists" in which their works are represented.
• The Fox Gallery, Monroe and Sprague – Ballet Arts Academy performs 45-minute shows featuring classic and contemporary mix, 5:30 and 6:30 p.m. The Fox Gallery is showing "Earthly Pursuits," featuring the soft pastel paintings of Sheila M. Evans and the atmospheric fired pottery of Erin Jo Solberg. Lobby Mezzanine showcases the River Ridge Fine Arts Association Juried Exhibit with works of 20 artists.
• Galleria De Felice, 10 S. Post St. in the Davenport Hotel – Original oil paintings from Ovanes Berberian, Idaho artist John Martin and Ernie Baber of California.
• GoodWorks Gallery, 1019 W. First Ave. reception from 5 to 9 p.m. – "Inside Passage—Random Images," watercolors by Dimitri Pavloff inspired by trip to Alaska.
•Kress Gallery, River Park Square, 3rd level, 808 W. Main Ave. — "Rivers of Lewis and Clark: Contemporary Artists Journey the Columbia Watershed Route."
•Liquid Life Espresso, 242 W Sprague Ave. – Andrea Faith Workman's photography, "Empowering Women."
• Lorinda Knight Gallery, 523 W. Sprague Ave., reception from 6 to 8 p.m. – "The Streets of Verona," rich oils by Montana painter Doug Turman. Live music.
• New Dawn Books and Chanti Gallery, 509 W Sprague Ave. — Peggy Winkle's "Mystic Expressionism and Emotional Impressionism" watercolors, acrylics, paper mache, ink and cut paper.
• On Sacred Grounds Coffee, Tea and Specialty Shoppe, Steam Plant Square, 163 S. Lincoln St., reception from 6 to 8 p.m. – Steve Nale's wildlife sketches, prints, and painted woodworking
• Pottery Place Plus, Flour Mill, 621 W. Mallon Ave. – "Yin and Yang: Polarities in Medium and Expression," the photography, pottery and ceramic wall hangings of Colleen Clark-Loomer.
• Rainbow Regional Community Center, 508 W. Second Ave., reception from 5 to 9 p.m. – Local artist Richard Craven's mixture of nature and myth images.
• Stone Crazy, Liberty Building, 203 N. Washington St. – Local artists featured.
Other First Night activities
• "Bear Necessities," downtown streets – Dozens of artistically adorned life-size fiberglass bears. Fund-raiser for Ronald McDonald House of Spokane.
• CenterStage, 1017 W. First Ave. — Brett Bellinger's artwork on the 2nd floor.
• Comedy Sports, 227 W. Riverside Ave. – Free tickets to Friday's 8 p.m. performance to the first 15 people to stop by and sign up between 5 and 6 p.m. Improvisational comedy played like a sport. Suitable for all ages.
• Douglas Gallery, 8 N. Post St. – "Latitudes," summer collection of exotic jewelry by designer Bonnie Cooper.
• Far West Billiards, 1001 W. First Ave. – Paintings by local emerging artists.
• Global Credit Union, 726 W. Riverside Ave. – Local artist's work can be seen hanging inside the building. Outside is live music by Robin Marks jazz quintet. Free giveaways for passersby.
• Mootsy's N. 9 Pizza, 9 N. Washington St. – Works by local artists.
• Northwest Museum of Arts and Culture, 2316 W. First Ave. – First Friday admission by donation between 5 and 9 p.m. Exhibitions include "Land Mark" prints by Joe Feddersen; and the "Taos Society of Artists and Ancient Cultures."
• Rock Coffee, 920 W. First Ave. – Paintings by local artists. Live acoustic music.
• Spokane Art School, Huneke Gallery, 920 N. Howard St., open until 7 p.m. – "The Human Animal Bond," group show with 16 Inland Northwest artists.
• Spokane Transit Authority Plaza, upper level rotunda, 701 W. Riverside Ave. – STA and the MAC present "Seeing Spokane," century-old photographs of familiar downtown corners, capturing Spokane's rich transportation history.
Beasts roam at the MAC
• "Strange Beasts" features the creative imagery of David Kraisler of Sandpoint, Heidi Oberheide of Palouse, Wash., and Ann Porter of South Dakota. The free exhibit is up through Aug. 31, in the Northwest Museum of Arts and Culture Orientation Gallery, 2316 W. First Ave.
The work of these leading contemporary artists engages the viewer with original imagery of beasts. It is the last show in this year's "In Focus: Regional Artist Spotlight" exhibit series.
The artists will discuss their creative styles during a free gallery talk on Friday, beginning at noon.
• Immediately following the "Strange Beasts" talks, Tom Dukich will answer questions about his sound installation, "Sonified Weather: Spokane/Seattle," in the museum's Solarium Space.
The installation "turns the weather into a jazz-like composition. It is part of the artist's quest to understand what the weather might sound like if we could hear it," says Jennifer Snead, the museum's public relations coordinator. It is up through Sept. 18.
View both the exhibits during normal museum hours, Tuesday through Saturday from 11 a.m. to 5 p.m.
Montvale Hotel hangs art
Beginning Tuesday, the paintings of Pacific Northwest artist Cathy Tousley will be hanging in the Montvale Hotel through Dec. 31.
Tousley studied painting at the University of Washington, attended Gonzaga University's art program in Florence, Italy, and currently resides in Seattle.
Much of the artwork in the Montvale Hotel's showing was created in Geneva, Switzerland, in 2002-03. Meet Tousley at an artist's reception on Tuesday from 5 to 7 p.m.
Other galleries
• "Something Old, Something New," the oil and watercolor paintings of Betti Jemison, are up during August at the Entrée Gallery in Priest Lake. There is an artist reception on Sunday from 5 to 7 p.m. The gallery, open daily, is on Reeder Bay Road, two miles east of Nordman near Elkins Resort.
• Felisa Carranza's August show, "De Blue Period" includes paintings from the 1980s and collage on wood. The Studio Felisa Galeria De Arte, 612 W. Garland Ave., is open Friday from 11 a.m. to 6 p.m., and by appointment; call 953-3312.
• The Sunset Gallery in Harrison, Idaho, is featuring "Images of the Palouse and the Lake," with paintings by Mary Lehner and Linda Fletcher and photographic art of Gay Waldman. The gallery, 200 S. Coeur d'Alene Ave., is open daily. For directions, call (208) 659-9172 or e-mail info@sunsetgallery-harrison.com.
Local journalism is essential.
Give directly to The Spokesman-Review's Northwest Passages community forums series -- which helps to offset the costs of several reporter and editor positions at the newspaper -- by using the easy options below. Gifts processed in this system are not tax deductible, but are predominately used to help meet the local financial requirements needed to receive national matching-grant funds.
Subscribe now to get breaking news alerts in your email inbox
Get breaking news delivered to your inbox as it happens.
---