Nurse wins regional award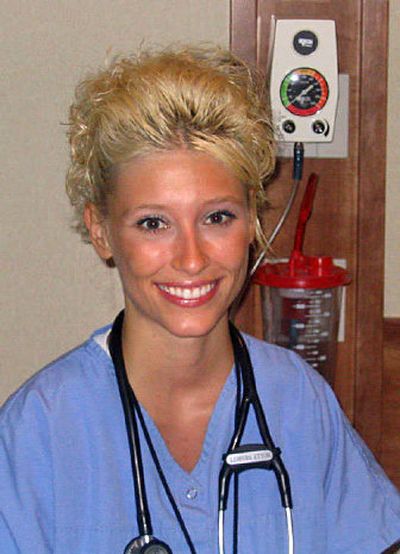 Holly Nesbitt believed her future was in nursing, but she couldn't get there without help.
Brad Bruhn was her knight in shining armor.
Bruhn is a counselor with the Idaho Division of Vocational Rehabilitation. Nesbitt, 23, sought his help to pay for college four years ago.
Last month, Bruhn honored Nesbitt, now a nurse at Northwest Specialty Hospital in Post Falls, with the Division of Vocational Rehabilitation Region 1 Rehab of the Year award.
"We helped her with money, stood behind her," Bruhn said. "This girl is very self-driven and smart. She did a lot on her own."
Voc-Rehab helps people diagnosed with physical, mental, learning or developmental disabilities find work that fits their abilities.
A genetic syndrome left Nesbitt without pectoral muscles or thumbs at birth. Pectoral muscles rotate the arms and pull the shoulders. Nesbitt also had a small hole in her heart that caused a murmur.
Doctors performed reconstructive surgery, and the hole in her heart healed as she grew, Bruhn said.
The syndrome was completely physical, as Nesbitt proved during her years in Post Falls public schools. She was a top honor student at Post Falls High School and wise enough to seek Voc-Rehab's help with college after she learned her diagnosis at birth qualified her for assistance.
Doctors verified that Nesbitt could handle the physical demands of nursing. Bruhn arranged for Voc-Rehab to pay for most of Nesbitt's tuition at North Idaho College, and later at Lewis-Clark State College. Voc-Rehab also helped pay for Nesbitt's nursing uniform, seminars and books, Bruhn said.
Nesbitt began a nursing internship at the Post Falls hospital in January, graduated from Lewis-Clark's nursing program in May and was hired as a floor nurse at the specialty hospital.
"She's one of the smartest people I've ever met," Bruhn said. "That's why I nominated her for this award."
Nesbitt was chosen for the Region 1 award from about 1,000 Voc-Rehab clients in the five North Idaho counties.
"If I can be an inspiration to someone, that's awesome," Nesbitt said. "I love this job and this place. The nurse-to-patient ratio is low, and I feel I can do the job the way I feel it should be done."
Nesbitt said she intends to return to school, possibly to become a nurse practitioner or to study pharmacology.
"I tell people to try Voc-Rehab," she said. "They even paid for my stethoscope. It was so worth it."
---