Marketing > Advertorial
Five ways to manage morning madness
Wed., Aug. 10, 2005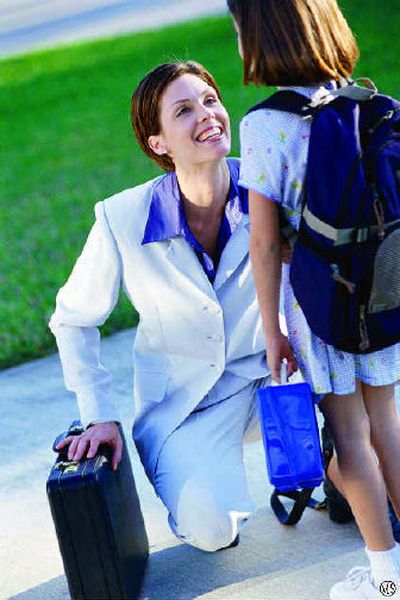 As families gear up for back to school – yes, it's just a few weeks away – most parents understand that breakfast is the most important meal of the day, but find that their morning routines are nothing short of madness.
Health and wellness expert Andrea Pennington, M.D. and author of The Pennington Plan, physician, motivational counselor and founder of The Pennington Institute for Health and Wellness has developed helpful tips on managing crazy mornings for busy moms across America to ensure that their kids will make the grade as they head back to school.
1. Make planning a family affair. Ensure a smooth start to a well-planned day by preparing for the morning the night before. Monitor the weather report with your children to decide on the next day's wardrobe, prepare nonperishable lunch items together and pre-pack the next day's essentials such as ballet shoes, soccer gear and snacks for the car.
2. Focus on success. A morning "command center" helps organize contact information, dates of important events and individual schedules in a single location that can be accessed by the entire family. Post a master calendar that includes activities for each family member, chores and individual to-do lists.
3. Eat breakfast. Eating a nutritious breakfast helps "break the fast" our bodies undergo during sleep. You don't have to eat a huge meal to get your body going – try an instant breakfast drink, or even a breakfast bar as you're running out the door. A boiled egg and a slice of cheese or a slice of ham on a piece of toast is also an easy on-the-go breakfast – no more excuses! As long as you're getting something with valuable nutrients in your body before you start your day, you're doing OK.
4. Promote family face time. Spend just a few moments in the evening reviewing your child's upcoming agenda. Use this time to review study questions for the next major exam or discuss the game plan for an extracurricular activity. A few extra moments together ensures that a busy schedule never interferes with your desire to keep family first.
5. Maintain a routine. Consistency is key. Establish a pattern that will guide you and your children through each individual's necessary tasks. This will combat serious threats that unexpected disruptions can cause. Consistent meal times, bedtimes and wake-up times are the first steps in establishing a regular routine.
For more information on how to manage the morning madness, visit www.carnationinstantbreakfast.com.
Local journalism is essential.
Give directly to The Spokesman-Review's Northwest Passages community forums series -- which helps to offset the costs of several reporter and editor positions at the newspaper -- by using the easy options below. Gifts processed in this system are not tax deductible, but are predominately used to help meet the local financial requirements needed to receive national matching-grant funds.
Subscribe now to get breaking news alerts in your email inbox
Get breaking news delivered to your inbox as it happens.
---