News > Nation/World
Quirky tycoon Abe Hirschfeld dies
Wed., Aug. 10, 2005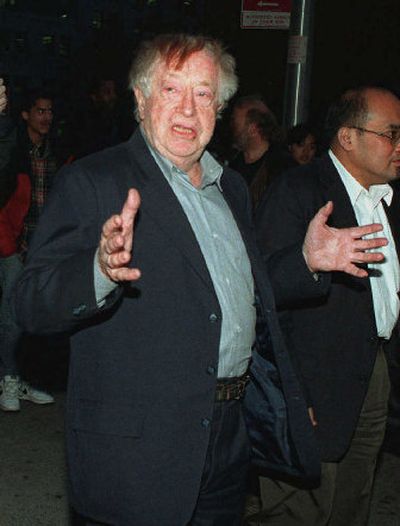 Abe Hirschfeld, the irascible, eccentric multimillionaire who grabbed headlines by launching quixotic political campaigns and trying to buy a New York newspaper but who was also imprisoned for trying to have a partner killed, has died. He was 85.
Hirschfeld died Tuesday of cardiac arrest at New York's Mount Sinai Hospital. He had cancer.
The immigrant, who made his fortune building parking garages, was as controversial as he was colorful. He was called a bully and a buffoon, and some thought he was flat-out crazy.
As an octogenarian, he served 22 months in prison for trying to pay a hit man $75,000 to murder his business partner. At the same time, he was fined $1 million for tax evasion.
At the millennium, Time magazine cited him as one of the 20th century's top builders and business magnates but headlined his profile "Crazy and in Charge."
That was not Hirschfeld's first less-than-stellar characterization in print. New York magazine once said he "occupies a place in public esteem somewhere between a loan shark and a communist spy."
And when Hirschfeld tried to take over the financially troubled New York Post in 1993 by writing a $3.4 million check, the staff was so incensed that it created an entire issue lambasting him as a mean-spirited liar and a "nut case." The issue, which became a collector's item, urged Post readers to call Hirschfeld "and ask him to sell this paper to someone who will allow it to survive."
The front page included a photo of the venerable newspaper's founder, Alexander Hamilton, with a tear running down his cheek, and an excoriating article about Hirschfeld, headlined: "WHO IS THIS NUT?"
Hirschfeld, who candidly admitted that he loved publicity, took it in stride. "The people at the paper hated me, because not one of them could write a check and buy it … they hated me because a guy who can't write can buy a newspaper," he told the Jerusalem Post five years later.
Hirschfeld was the putative owner of the sassy tabloid for about 16 days before a bankruptcy judge handed it back to its former owner, Rupert Murdoch.
In yet another media-made escapade, in 1998 the gadfly tried to buy off Paula Jones by offering her $1 million to drop her sexual harassment lawsuit against President Clinton.
"Personally, she's a real American girl, but she's not among the raving beauties," Hirschfeld told the Times after the deal fell through. "She's more like my secretary."
Eager to join politicians – who generally regarded him as an embarrassment – Hirschfeld self-financed several unsuccessful campaigns for U.S. senator (including one against Hillary Rodham Clinton), for New York lieutenant governor and comptroller, and for Manhattan borough president.
Although one tax-evasion case against him ended in mistrial in 1999 – to which he responded by inviting jurors to lunch and giving each $2,500 – Hirschfeld was fined $1 million on other income-tax-evasion charges in 2000.
That same year, at age 80, Hirschfeld was convicted of solicitation of murder in a case that said he targeted his business partner of 40 years, Stanley Stahl, in 1996. Stahl died of a stroke in 1999.
After screaming "You can all go to hell" at court officials as he was led away, Hirschfeld spent 22 months in New York's Attica and Rykers Island prisons.
He described the prison experience to the Miami Herald in 2003 as "fantastic" because of the nice people he met.
Hirschfeld is survived by his wife of 62 years, Zipora; a son, Elie; and a daughter, Rachel.
Local journalism is essential.
Give directly to The Spokesman-Review's Northwest Passages community forums series -- which helps to offset the costs of several reporter and editor positions at the newspaper -- by using the easy options below. Gifts processed in this system are not tax deductible, but are predominately used to help meet the local financial requirements needed to receive national matching-grant funds.
Subscribe now to get breaking news alerts in your email inbox
Get breaking news delivered to your inbox as it happens.
---