Sports
T.O. tossed out of camp
Thu., Aug. 11, 2005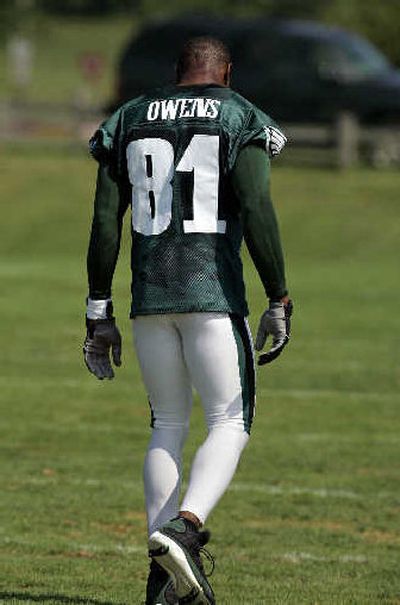 Terrell Owens got T.O.'d – as in Thrown Out of training camp.
The All-Pro wide receiver was asked to leave Philadelphia Eagles camp in Bethlehem, Pa., Wednesday after a heated exchange with coach Andy Reid, making it the latest curious twist in a controversial career.
This time, there were no Sharpies or desperate housewives.
Instead, Reid asked the injured Owens to leave after their discussion, according to Owens' agent, Drew Rosenhaus, and his publicist, Kim Etheredge. Owens was asked to return next Wednesday.
"I got sent home until Wednesday for whatever reason," Owens told Comcast SportsNet for a TV interview at his home in Moorestown, N.J.
"It was just a difference of opinion. I was defending myself."
With reporters camped on his lawn and helicopters hovering overhead while Owens played basketball and lifted weights, the circus scene only magnified the distraction Owens has become to the NFC champions. While Owens was an instant fan favorite last year after helping the Eagles reach the Super Bowl, he's caused constant headaches for management because of his demand for a new contract.
Now comes this.
Comcast SportsNet reported the disagreement occurred during a team meeting. Owens then got his belongings and cleared out of training camp at Lehigh University. Hours after testing his injured groin on a separate playing field from his teammates, Owens was at home.
"If the truth needs to be told, then that's what I'll do," Owens said. "If he (Reid) wants to be a man about it and have me really go on the air and really tell the people what happened, then I can. It was a difference of opinion."
The Eagles responded with a brief statement:
"Terrell Owens has been sent home from training camp due to undisclosed team issues. He is expected to return to the team on Wednesday, August 17th."
Rosenhaus said: "Basically, the coach told him he should take a rest and get some rehab and (Reid) would get back to him in a few days."
Owens is unhappy the Eagles have refused to redo his contract as he enters the second season of a seven-year, $48.97 million deal. He hired Rosenhaus and threatened to skip camp completely. Instead, Owens reported, then injured his groin last Thursday.
49ers' Smith to start Saturday against Raiders
The San Francisco 49ers are ready to see what Alex Smith can do.
The NFL's top draft pick will be the 49ers' starting quarterback in their preseason opener against the Oakland Raiders, coach Mike Nolan said. Smith earned the honor with his impressive work in training camp, where he has practiced with the 49ers' first-team offense since the opening workouts.
Smith took the news with the same poise he's shown against every challenge in the last year, when he went from relative obscurity at Utah to the top of the draft class with one spectacular college season.
He'll soon find out whether he can keep that cool with Warren Sapp and Charles Woodson chasing him at San Francisco's Monster Park on Saturday.
"This is a big opportunity, but it's still just a preseason game, and I have to treat it that way," Smith said. "The atmosphere will be nice. It will be realistic. It's one more thing for me to learn."
Smith will take about 25 snaps before giving way to Tim Rattay, who started nine games last season while battling several injuries during his only campaign as San Francisco's No. 1 quarterback.
Ken Dorsey, who started seven games last season, will play the remainder of the exhibition.
Ravens' Lewis has first practice in pads
Baltimore Ravens running back Jamal Lewis had his first practice in pads following an off-season of legal turmoil. The 2003 NFL Offensive Player of the Year served four months in federal prison and two months in a halfway house after pleading guilty to using a cell phone to arrange a cocaine deal.
Lewis reported to training camp Monday. On Wednesday, he took part in a few team drills, but didn't participate in full-contact practice.
"He looked fresh, which is what you would expect after not being here for the first week," Ravens coach Brian Billick said of Lewis, limited to a career-low 1,006 yards last season as he dealt with his legal problems and injuries. "We'll just continue to push him through it, put him through his paces and see if we can get him to that next level of conditioning."
Edwards enters, leaves Browns camp without contract
Braylon Edwards came and went.
Less than three hours after arriving at the Cleveland Browns' headquarters to apparently finalize his contract, the rookie wide receiver and his agent bolted after negotiations with the Browns broke down.
Edwards and agent Lamont Smith drove away in a three-car caravan without finishing a deal that looked all but done.
"You don't have a deal until you have a deal," said Smith, sitting in the passenger seat of an SUV driven by Edwards' father, Stan. "We're leaving Cleveland."
Around the league
Pittsburgh Steelers linebacker Joey Porter underwent surgery to remove loose cartilage from his knee and is expected to miss four weeks. … The St. Louis Rams signed their first-round pick, offensive tackle Alex Barron, to a five-year contract. … The Buffalo Bills signed third-round pick Kevin Everett, who is still recovering from a torn left knee ligament suffered in minicamp. … The Carolina Panthers claimed second-year cornerback Dwight Anderson off waivers from the Rams. Anderson was released on Monday for curfew violations.
Local journalism is essential.
Give directly to The Spokesman-Review's Northwest Passages community forums series -- which helps to offset the costs of several reporter and editor positions at the newspaper -- by using the easy options below. Gifts processed in this system are not tax deductible, but are predominately used to help meet the local financial requirements needed to receive national matching-grant funds.
Subscribe to the sports newsletter
Get the day's top sports headlines and breaking news delivered to your inbox by subscribing here.
---