Sports
Stewart keeping foot on gas
Thu., Aug. 18, 2005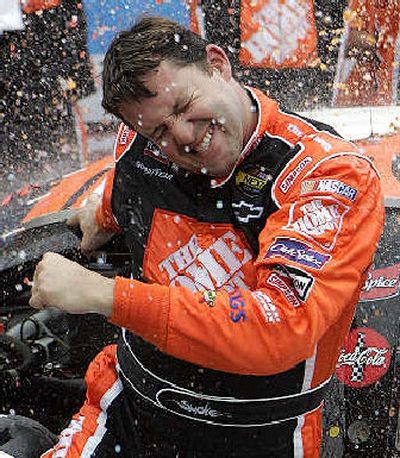 Tony Stewart is in a zone rarely achieved in NASCAR.
With five victories in the last seven races and his spot in the Nextel Cup playoffs virtually assured, Stewart can take it easy.
But don't count on it.
"Even though we have that flexibility to relax a bit from knowing that we're going to make the Chase, we still have the pressure to make sure we've done everything we can to be prepared for when the Chase starts," he said. "We're pretty much guaranteed to be in, but we don't want to just settle for being in.
"We want to do what we can to win the championship."
And in case he forgets, crew chief Greg Zipadelli will be certain to remind him of that. Stewart probably will be on top when NASCAR squeezes the points after 26 races to five-point intervals among the top drivers, who'll chase the title over the last 10 events.
His lead is 105 points over Jimmie Johnson heading to Michigan for Sunday's GFS Marketplace 400.
"We can't even think about getting complacent," said Zipadelli, the only crew chief Stewart has had since his rookie season with Joe Gibbs Racing. "My attitude after last week is we've got to work even harder. I want to win more than I did last weekend because it's the following weekend."
That was his philosophy after the most coveted victory of Stewart's seven seasons in NASCAR – when the Hoosier climbed the fence to celebrate at Indianapolis Motor Speedway. Last Sunday, Stewart won again, this time on the road course in Watkins Glen, N.Y., further cementing his spot in the Chase.
"It's real easy to say, 'Hey, we're in this thing. We're OK,' " Zipadelli said before the race at The Glen. "We've got to keep the intensity, the pressure on ourselves to perform, not slip up, not sit back and let your guard down."
Every point counts, and for the Home Depot team there is no alternative other than racing as hard as it can each time the rubber meets the road. It's been that way for most of Stewart's 34 years – from the time he began beating the rest of the kids in go-karts.
Since then, Stewart has won in dirt cars, midgets, sprints and everything else he's driven. He came to the fore as the 1997 IRL champion, and then moved to NASCAR.
Only racing greats Mario Andretti and A.J. Foyt showed that sort of versatility. Now, some are comparing Stewart to them.
"It doesn't put pressure on me," he said. "If anything, it's very flattering.
"Hopefully, I'm one of those guys who can go anywhere. Even if it's a car I haven't driven before."
Local journalism is essential.
Give directly to The Spokesman-Review's Northwest Passages community forums series -- which helps to offset the costs of several reporter and editor positions at the newspaper -- by using the easy options below. Gifts processed in this system are not tax deductible, but are predominately used to help meet the local financial requirements needed to receive national matching-grant funds.
Subscribe to the sports newsletter
Get the day's top sports headlines and breaking news delivered to your inbox by subscribing here.
---