News > Spokane
Spokane Valley Museum brings a blast from past
Fri., Aug. 19, 2005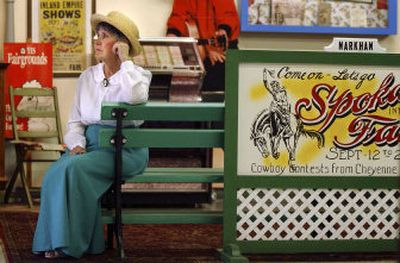 It all started to come back through the haze of time.
Spokane Valley City Councilman Mike Flanigan remembered climbing into the old wooden photo booth whenever his family visited Woolworths. Jim Giles, a Chamber of Commerce ambassador, remembered riding the red and silver rocket that was once at the Natatorium Park. For Eva and Helen Renz, sisters-in-law who moved to the Spokane Valley in the 1940s, the black and white pictures reminded them of times when much of the Valley was still farm country
They and nearly 100 others who attended Thursday's grand opening of the Spokane Valley Heritage Museum were given a vivid glimpse of the area's past.
The museum's role is to create a sense of community and identity, director Jayne Singleton said
"By coming to the museum, both people who have been here for a long time or newcomers, they gain an understanding of how the valley developed," Singleton said. "Our motto is to inform, influence and inspire."
The museum's building at 12114 E. Sprague is itself is a historical landmark; built in 1912, it was the Opportunity Township Hall.
Meandering through its rooms is a journey to many colorful pasts.
One exhibit shows how phone calls were routed in the mid-20th century, the equipment's tubes creaking away with each digit that is dialed. Singleton said students are always fascinated as they watch the machine, and then hear a telephone ring.
"We connect so quickly nowadays – cell phone, e-mail – but we don't connect like these people did, that sense of knowing your neighbors," she said.
Singleton said many artifacts have been donated by residents.
The walls are covered with bright signs from old restaurants and motels, and calendars from the 1950s.
A black and white picture shows a few houses, telephone poles and a dirt track at the corner of Sprague and Pine, circa 1908.
Among the treasures are a gable from the Spokane Valley Fairgrounds grandstand, built in 1901; a 104-year old timber from an irrigation system's headgate; and a washing machine from the 1890s.
There are pictures of the 1927 National Air Races at Felts Field and 1904 school report cards, a church pulpit and a life-sized placard of Elvis.
"History has more meaning and comes to life when you can see it and touch it and understand what your grandmother was talking about," said Mayor Diana Wilhite.
She said the artifacts will help the younger generation visualize and learn what came before them.
"Things need to be preserved. Knowing what the valley looked like and seeing all these old pictures, it's like, `Wow,'" said Cherie Larsone, 23.
Education is one of the museum's key aims, Singleton said. It includes historical archives for student research and will offer public programs, she said.
"Our goal is that visitors who come to the museum take away a sense of the importance of our history," Singleton said.
Singleton said she is pleased with the museum's success so far. It is one six museums in the state that has been picked to feature a Smithsonian exhibit.
Some of the Valley museum's own exhibits are currently on display at the Museum of Flight in Seattle, Singleton said.
Local journalism is essential.
Give directly to The Spokesman-Review's Northwest Passages community forums series -- which helps to offset the costs of several reporter and editor positions at the newspaper -- by using the easy options below. Gifts processed in this system are not tax deductible, but are predominately used to help meet the local financial requirements needed to receive national matching-grant funds.
Subscribe now to get breaking news alerts in your email inbox
Get breaking news delivered to your inbox as it happens.
---