News > Idaho
Louis St. Louis always lived life as free spirit
Sat., Aug. 20, 2005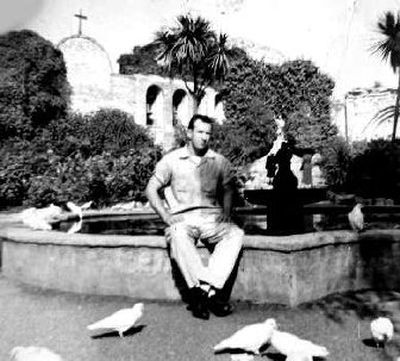 Louis St. Louis was a master of all trades and a real giver, according to his family and friends.
"He had an enthusiasm for living, for life, for people, for business," said his friend Leslie Custer.
St. Louis died July 5 at the age of 74. A resident of Coeur d'Alene since 1978, he was born in Modesto, Calif. He was diagnosed with leukemia in December 2001, but never from the first day did he think or speak about death, his son Guy St. Louis said.
"He was the kind of guy that would go into a bullfight with mustard on his sword," his son said.
Guy St. Louis and his wife, Tina, own Kindred Concierge Services, a company that now employs 50 people and performs a vast array of services, from personal services, such as maid and pet services, to property maintenance, marine/automotive services and construction.
Guy St. Louis credits his father for his ability to master all of these different trades.
"There wasn't anything he couldn't do," he said. "He did everything from automobile repair to every phase of construction, electrical, plumbing; that's where I learned a lot of my skills."
Guy St. Louis said his father was a very independent thinker.
"There wasn't anyway you were going to corral that," he said. "He didn't like to be told what to do, where to go or how to get there; he was just a free spirit and wanted to do it on his own. He wasn't anyone you could throw a lasso on."
Custer said that, in their six-year friendship, Louis St. Louis really touched her life. She said he always had a positive attitude and a smile. They met at Curley's in Hauser. She was a single mom at the time, and he took her under his wing. They would have steak on Wednesday nights at the Iron Horse restaurant and go dancing at the Eagles Club.
"There's never a time when you saw Louie where you didn't share two things," Custer said. "One would be a laugh, and the other would be a hug. Even when he was sick, he would always ask 'How's your family? 'Gosh your daughter's beautiful, how's she doing?' "
Custer said that St. Louis was always helping people out and was busy all the time. He was interested in health issues, and he and Custer worked together promoting Nikken, a Japanese wellness company. The day after the two met, they were at a Nikken seminar together the entire day.
"That's how we got our friendship going; we were involved in business together. He was more concerned with other people," Custer said. "He didn't want to woe you with his tales. He had a giddyup in his step!"
When Custer got married, St. Louis would come over for chili and cornbread made by her husband, Marty. When the couple had their son, Joey, two years ago, St. Louis was delighted. The last time Custer spent time with him, he came to their home for chili.
"He was just genuine with everybody. Everybody was the same; everybody was deserving of love," Custer said. "Louis just lived a life of love for people. Louis would want everyone to succeed."
St. Louis' companion for the last three years of his life was Frankie Lynch.
"He had cancer; he had his first go-around when I met him," Lynch said. They met at the Slab Inn and danced the night away.
"He loved to dance," Lynch said. "We had a lot of fun dancing."
Her pet name for him was Lou-Lou. She felt he was the only man who ever loved her for who she was.
"He told me that God had sent me to him, that I was his guardian angel," Lynch said. "I said, 'Did she have horns or wings,' and he said, 'Don't ever change!' "
His two sons, Guy and Gary, were the product of Louis' first marriage with Carolyn. Gary is deceased. He had one daughter, Shauna, with his second wife. There are three grandsons and three great-grandchildren who survive him.
"Dad was married five times," Guy St. Louis said. "He was an extremely restless individual."
He also spoke of his father's wonderful sense of humor and his good cooking and said he was his "own man." He loved to play poker and played with Richard Brooke and others once every four to six weeks for the past 10 years.
"They were lively and hysterical, yet competitive poker matches that usually lasted eight hours," Brooke said. "He loved the game, loved to have fun. I think the most unique thing about him was that he was a free spirit, following his own path.
"Everything I have to say about Louis will sound like a cliché. The best word I can use is authentic," Brooke continued. "He was his own man. He did what he thought he should do, whether it made people like him or not. He was one of those rare breeds of guys who marched to his own drummer. What I admired about Louis is he had no regrets."
Brooke hired him for several of his own construction projects, and he said that every time he encountered him, whether he was putting a roof on a structure or if he just lost $500 in a poker game, St. Louis always had a smile on his face. Even in the face of adversity, and he had quite a few, Brooke said, he took it in stride and remained upbeat.
"Louis was just great, fun and positive," Brooke said. "He loved to work. He created really wonderful solutions to construction problems."
Guy St. Louis said that his dad beat the record for getting out of the hospital the first time he went through chemotherapy, being released 17 days later leukemia-free.
"It took a lot out of him, but he always felt he would beat the disease," he said. If the subject of death came up, he would change the subject.
As always, he was more concerned about others.
Local journalism is essential.
Give directly to The Spokesman-Review's Northwest Passages community forums series -- which helps to offset the costs of several reporter and editor positions at the newspaper -- by using the easy options below. Gifts processed in this system are not tax deductible, but are predominately used to help meet the local financial requirements needed to receive national matching-grant funds.
Subscribe now to get breaking news alerts in your email inbox
Get breaking news delivered to your inbox as it happens.
---