Sports > Outdoors
Teen champion uses fame to help charity
Sun., Aug. 21, 2005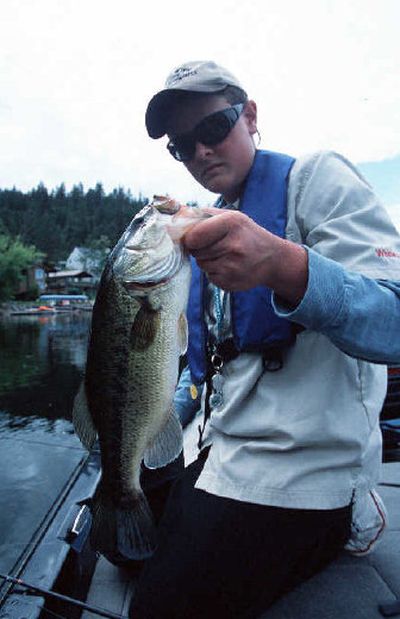 Joey Nania of Liberty Lake is using his new-found fishing fame for good causes.
Nania, 14, is the Washington state junior bass fishing champion who went on to win the Junior Bassmaster World Championship near Pittsburgh last month while competing against the top 11- to 14-year-old anglers from 37 other states.
Nania won a $5,000 scholarship in addition to a fishing boat and motor valued at $8,000 and a family trip to Walt Disney World in Florida, plus he landed an extra $1,000 for catching the biggest bass of the one-day tourney.
Back home, Nania offered his prowess at catching bass in Liberty Lake as an auction item. The four-hour bass fishing trip with the junior world champ netted $2,200 for the charities.
"I'm not a fisherman," said John Robideaux of Spokane, a friend of the Nania family who outbid the competition for the trip. "I wanted to make sure at this auction that he understood his wonderful accomplishment representing the state of Washington. He's a shining example of a red-blooded all-American kid. I can't think of anything better than having a sport in your life like fishing.
"It's not about the money. It's about supporting the cause and supporting young people who want to do something with their lives."
Robideaux said he didn't realize his main competition in the bidding was with former Washington Redskins quarterback Mark Rypien. "He was across the room and I didn't see him bidding," Robideaux said. "I'm going to ask him to go fishing with us."
Nania said he's looking forward to the trip, but he's suggested that they wait until spring.
"The bass bite picks up again when the water cools in the fall, but I know we'll catch a lot more fish in the spring when we can see the 3-pounders on their beds," he said.
Meanwhile, Nania has been scouting Potholes Reservoir to prepare for the next Washington State Junior Championships Sept. 3-4. The winners in junior and senior age divisions will go on in February to represent Washington in the Junior Bassmaster World Championships at the Bassmaster Classic in Florida.
•Amber Wood, 19, daughter of Curt and Joann Wood of Davenport, has received a $1,000 scholarship from the Inland Northwest Wildlife Council.
The Bob Panther Excellence Award has been presented to Woof for her combination of conservation service, scholastic achievement and her essay covering an environmental issue, said council spokeswoman Karen Wallingford-Perez.
Wood is a 2005 graduate of Davenport High School and has enrolled for the fall term at Spokane Community College.
"The hundreds of hours she has put into supporting the Lincoln County Longbeards-National Wild Turkey Federation banquets, turkey trapping and transplanting, habitat improvement through plantings and other support to wildlife organizations are the accomplishments that make her a person the council is pleased to support in furthering her education," said Fred Zitterkopf, a past council president.
Local journalism is essential.
Give directly to The Spokesman-Review's Northwest Passages community forums series -- which helps to offset the costs of several reporter and editor positions at the newspaper -- by using the easy options below. Gifts processed in this system are not tax deductible, but are predominately used to help meet the local financial requirements needed to receive national matching-grant funds.
Subscribe to the sports newsletter
Get the day's top sports headlines and breaking news delivered to your inbox by subscribing here.
---