News > Features
Healthy steps toward adulthood
Tue., Aug. 23, 2005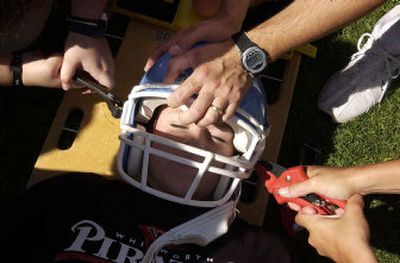 If you're the parent of a college-aged kid, you've likely spent the last 18 years or so attending to your child's every medical need.
You took care of the immunizations and the eye exams and the dental check-ups and the sports physicals.
And, now, this young person who probably has never even scheduled a doctor's appointment, will be plunked in a dorm room and left to his or her own devices.
Scared yet? That's OK. It's perfectly normal.
Still, this is probably a good time for Mom and Dad to back off.
"The most important thing for parents to do is to let their children take care of themselves," says Jan Murray, director of the health center at Whitworth College. "This is an opportunity for children to learn how to be adults in a safe environment and learn self-care … My advice to parents is to respect your children as young adults."
If you have the time before school starts, have your child schedule and attend a doctor's appointment on his or her own, says Carol Gahl, student health coordinator at Rockwood Cheney Medical Center.
That will give them experience in talking with the doctor and handing over an insurance card.
And that brings up the important issue of health insurance. You'll want to find out whether your insurance covers your child while on campus.
"Many of the students know absolutely nothing about their insurance coverage," Gahl says.
Most young people don't need a complete physical before starting college, though they might be required to have one for athletics.
But college-bound kids will probably need to stop at the doctor's office to at least make sure they are current on their immunizations. Many schools require students to submit a signed form verifying they've had all of their immunizations. Shots to check on include tetanus and diphtheria, chickenpox, measles, mumps and rubella, and hepatitis A and B.
The Centers for Disease Control and Prevention is now recommending that college freshmen be vaccinated against meningococcal meningitis, because students live in cramped quarters where the serious brain infection can spread.
In Spokane, the meningitis vaccine is available at the health district and at many doctor's offices for about $100 a shot.
If your child has a chronic condition that needs to be closely watched, you may want to find a doctor near the college your child will attend. Dr. Jim Bingham, a family physician with Group Health in Spokane, says he sees a couple of young people who go to school here but live on the West Side.
"That takes a little extra planning," he says.
Kirsten Randolph, an 18-year-old from Spokane, is starting her first year at the University of Washington.
She has asthma and a major allergy to nuts that can send her into anaphylactic shock.
"I've been trying to brainstorm how I can keep in contact with food services, especially so they can know what I'm allergic to," Randolph says. "That'll be a pretty big thing while I'm there."
When you're packing up all of those sheets and towels and milk crates, you'll also want to stock a small medical kit for your child. Plan on including some pain-relievers, cold medicine, vitamins and plenty of whatever prescription medications are needed. You may also want to purchase a first-aid kit to fix any bumps and scrapes.
You'll want to make sure your child knows how and where to refill necessary prescription drugs. And you'll want to make sure to give him or her an insurance card.
Upper-respiratory infections are the No. 1 reason students wind up at the campus health office, according to those who staff them.
"We (also) see a lot of skin conditions," Murray says. "And just almost everything else you can think of, we've probably seen it one time or another."
Students should be sure they know what to do if they get sick at school, a topic that's typically covered during orientation. Find out where the health center is and who to go to if there's a problem.
At Whitworth, a corps of students is trained to work as medics. One medic lives in each dorm and becomes the first-responder in case of illness or injury, Murray says.
Physical health is just one aspect of well-being while away at school; there's an important mental component as well. Bingham says he talks to all of his college-bound patients about homesickness, that it's something that just about all new students go through.
Parents should listen carefully to their kids as they get adjusted to school life, says Dr. Kim Thorburn, county health officer.
"Look for changes in their behavior," Thorburn says. "If a person tends to be an outgoing, friendly person and becomes more withdrawn … It's probably a good idea to talk to your child about mental and emotional health, especially if they're going away to college and haven't been away for a long time."
Let them know that counseling is available on campus, Gahl says.
"Depression is very common, especially in the freshman year, especially around exam and finals time," she says.
And after you talk about that, you should probably chat about the lifestyle issues that come up when living on a college campus.
"It's a really good time to sit down with your daughter and talk about sexual activity and reproductive health," Thorburn says.
Randolph, who graduated from Gonzaga Prep, received some pamphlets in the mail about drinking on campus. She talked about them with her parents, she says.
Says Bingham, the family physician: "I don't give them the sex-drugs-and-rock-n-roll lecture because hopefully they've gotten that earlier."
Local journalism is essential.
Give directly to The Spokesman-Review's Northwest Passages community forums series -- which helps to offset the costs of several reporter and editor positions at the newspaper -- by using the easy options below. Gifts processed in this system are not tax deductible, but are predominately used to help meet the local financial requirements needed to receive national matching-grant funds.
Subscribe now to get breaking news alerts in your email inbox
Get breaking news delivered to your inbox as it happens.
---