Sports
Kicking job still up for grabs
Tue., Aug. 23, 2005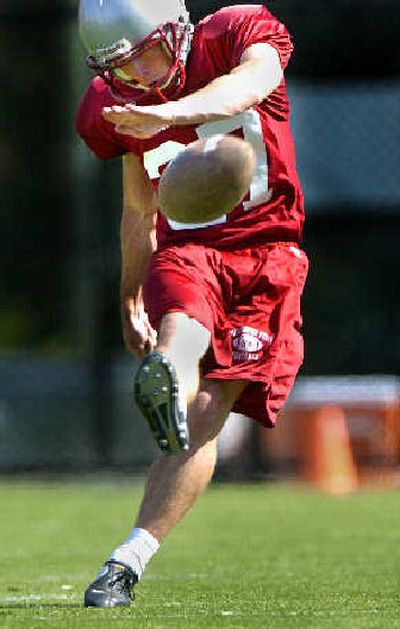 PULLMAN – Four times in 2004 Washington State had a game decided by three points or less. Twice more the final margin was within a touchdown.
And yet, not one of those games came down to a kick.
For the Cougars, that might have been a fortuitous stroke of luck in an otherwise disappointing 5-6 season. Neither freshman Loren Langley (5 of 11) nor junior Graham Siderius (1 of 3) were able to get on track during the season – as a team WSU was worst in the Pac-10 in both field goals made and field goal percentage.
Langley won the job before last season by proving more consistent in fall camp than Siderius, who boasted the more powerful leg. But that was all rendered moot when Langley began missing kicks consistently during the season.
"I didn't think it was a good year at all," Langley said. "I'm realistic. … The stats speak for themselves; I wasn't very good."
As a result, this fall finds the same two players – one now a sophomore, the other a senior – dueling for the placekicking duties once again. And should the Cougars play more close games this season, there's a fair chance that kicking decision could directly affect the win column one way or the other.
"I don't think either of us kicked well enough to earn the spot again based on our performance last year," Siderius said. "But I think we've both made good adjustments in the off-season and we've kicked better this fall."
In fact, the two kickers have almost reversed course entirely from last year's scouting report. Siderius has always possessed leg strength capable of booming kicks from 50-plus yards, but has been erratic throughout his WSU career. As a result, he didn't even attempt a kick in his four years at WSU until late last season.
That happened because Langley's accuracy, despite a lack of range, failed him.
But in the off-season, Siderius completely revamped his kicking style, eschewing most outside advice and focusing on punching the ball from a straighter angle for increased accuracy. And Langley attended a weeklong kicking camp, noticeably improving his range, but at the risk of missing by more when he's off.
Siderius had been perfect in most practices and the first three scrimmages until the final kick last Friday, when he missed from 42 yards with the entire team forced to run sprints because of it. Langley, meanwhile, had missed more often during the course of the fall scrimmages but then nailed the same 42-yard kick with the team's sprinting future resting on his shoulders.
It all has coach Bill Doba scratching his head.
"We're going to really intensify it and really start charting it," he said of the last two weeks before the season-opener. "I think both of them would be pretty good (under pressure)."
Doba is certain he'll leave Siderius on the field for kickoff duties, which have been his for years. Langley is actually getting as much, if not more, distance than Siderius off the tee but the senior's 60-pound weight advantage and tackling skills have given him the edge in Doba's mind.
As for the field goals and extra points, well, that's what the last days of camp are for. Again.
"It doesn't seem like much has changed," Siderius said, uttering the ultimate truth about his job. "People don't even really care about who your kicker is until it's not working."
Local journalism is essential.
Give directly to The Spokesman-Review's Northwest Passages community forums series -- which helps to offset the costs of several reporter and editor positions at the newspaper -- by using the easy options below. Gifts processed in this system are not tax deductible, but are predominately used to help meet the local financial requirements needed to receive national matching-grant funds.
Subscribe to the sports newsletter
Get the day's top sports headlines and breaking news delivered to your inbox by subscribing here.
---