News > Nation/World
Last of 8,500 Jewish settlers leave homes in Gaza Strip
Tue., Aug. 23, 2005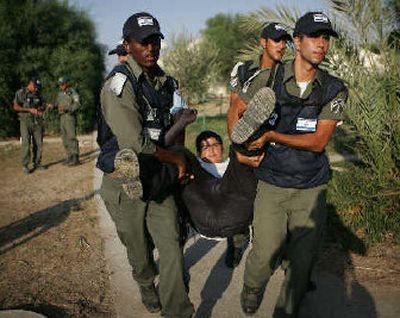 NETZARIM, Gaza Strip – Holding their Torah scrolls aloft and weeping, the last Jewish settlers left the Gaza Strip on Monday, fulfilling Israeli Prime Minister Ariel Sharon's vow to end the more than three-decades-old settlement enterprise he had pioneered in the seaside territory.
The nearly 500 residents of Netzarim, together with dozens of youthful supporters from outside their community, rolled out of their isolated, heavily guarded enclave for the last time in their customary mode of transport: bulletproof buses, which for years had protected residents against attacks by Palestinian militants.
A convoy of private cars, overstuffed with hastily packed belongings, followed behind.
Even before the last of the settlers walked or were carried from their Gaza homes, thousands of police and soldiers had been diverted to the northern West Bank for today's evacuation of two small settlements viewed by Israeli security officials as potential flash points for violence.
Hundreds of militant youths have joined a handful of residents in the northern settlements of Sanur and Homesh, stockpiling supplies and erecting fortifications similar to those set up by defiant holdouts last week in the Gaza settlement of Kfar Darom.
Netzarim was the last of the 21 Jewish settlements in Gaza to be secured by Israeli troops in a turbulent but methodical military operation that spanned only eight days, including a hiatus for the Jewish Sabbath – a much tighter timetable than the weeks-long withdrawal originally envisioned.
By nightfall Monday, the army had declared that its mission of removing some 8,500 settlers from Gaza, in Israel's largest noncombat military operation ever, had been accomplished.
"As of now, there are no Israeli settlements in the Gaza Strip," said Maj. Gen. Dan Harel, the commander who oversaw the withdrawal.
Israeli troops will stay at the settlements for several weeks, securing the area and demolishing settler homes as agreed in advance, before the territory is turned over to the Palestinian Authority.
Palestinians living in nearby towns and villages watched the emptying of the final settlement in Gaza with immense satisfaction, though from a safe distance. The environs of Netzarim were the scene of some of the fiercest fighting of the nearly five-year Palestinian intifada, which took a heavy toll on civilians and combatants on both sides.
"We are so relieved they are going, because the shooting that happened every minute of our lives will finally stop," said Walid Alawad of the Palestinian village of Zahara, keeping a wary eye on a nearby Israeli tank.
"We need to see it all gone: no settlers, no soldiers, no tanks, no observation tower," said his neighbor, Adel Alghoula. "We want nothing more of them to remain."
The Palestinian Authority hailed the end of what spokeswoman Diana Buttu called the Israeli "colonization" of Gaza.
"We are looking forward to the day that colonization of the West Bank and East Jerusalem also comes to a close," she said.
Palestinian Authority President Mahmoud Abbas telephoned Sharon on Monday to say he hopes the withdrawal would mark the start of a new chapter between Israelis and Palestinians, the prime minister's office said.
But Abbas faces challenges of his own. The Palestinian militant group Hamas staged an enormous victory march that wound its way through Gaza City streets within earshot of the settlement. Thousands of followers waved green Hamas flags while loudspeakers raised chants, "Our way is the way of God!"
In Netzarim, arriving Israeli soldiers were greeted with disdain and aggression in some settler homes but with gentleness and courtesy in others. One settler screamed at a ranking army officer not to dare step over his threshold, but another asked for soldiers' addresses to send them holiday cards.
As has been a pattern in past days, some settlers busied themselves with everyday tasks even as the eviction was beginning. Ziv Ben-Ari, who lived in Netzarim for 10 years with his wife and six children, mowed his front lawn shortly before the soldiers showed up.
"It's a sign of continuity and regularity," he said. "It means even if we are not here, we are still here."
The settlement, founded in 1972 on a desolate strip of sandy scrubland just south of Gaza City, was among the most vulnerable and remote of the Jewish outposts in the region. Cut off from the main settlement bloc of Gush Katif, it was reachable by a special corridor road to and from Israel that was traveled only by armored buses and military convoys.
Local journalism is essential.
Give directly to The Spokesman-Review's Northwest Passages community forums series -- which helps to offset the costs of several reporter and editor positions at the newspaper -- by using the easy options below. Gifts processed in this system are not tax deductible, but are predominately used to help meet the local financial requirements needed to receive national matching-grant funds.
Subscribe now to get breaking news alerts in your email inbox
Get breaking news delivered to your inbox as it happens.
---