News > Idaho
Man charged in group home theft
Tue., Aug. 23, 2005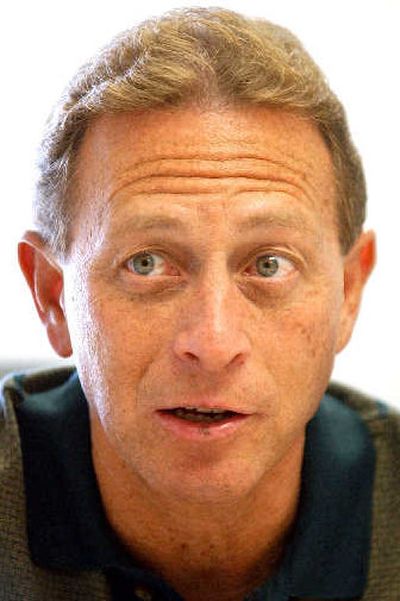 The former president of a Post Falls group home has been charged with stealing $150,000 from the company and its employee pension plan and using the money for lavish purchases, such as anti-aging hormone supplements, a Nigerian money scam, hotel rooms in Barcelona and a bogus MBA.
James C. Stone, 55, ordered Alpha Health Services' bookkeeper to record the charges as legitimate business expenses, according to a federal grand jury's indictment. The hormone supplements, for example, were billed as "nursing supplies" for clients, court documents said.
Alpha Health's seven group homes served adults with developmental disabilities. Medicaid paid for their care.
In addition to cheating Medicaid, the alleged embezzlement robbed Raymond Judge and other employees of their retirement dreams.
"I'd be lucky if I get anything," said Judge, who hasn't received a dime of his $40,000 in pension benefits, accrued since 1987. He said the fiasco reminds him of the Enron scandal. "The government needs to do something about this stuff," Judge said.
Stone faces federal charges, including two counts of theft from a pension plan, six counts of mail fraud, and one count each of wire fraud, interstate transportation of stolen property, and making a false statement.
A jury trial is scheduled for October. If convicted on all counts, Stone could face up to 165 years in prison.
"Not guilty," Stone said Monday, repeating the plea he entered in the case last week. The Post Falls resident declined further comment.
Stone founded Alpha Health Services in 1987, according to court documents. Two years later, the company set up its pension plan with Stone as the sole trustee.
In 2002, Stone drew $46,000 from a company credit card account, according to court documents. He allegedly took another $46,000 from the employee pension plan three weeks later. On both occasions, the funds were deposited into a Singapore account held by TT International, court records said.
Stone is also accused of drawing more money – $48,000 – from Alpha's credit account in March 2002 and then taking that money to Madrid "to make a personal investment."
Stone invested and lost the money in a Nigerian scam, according to court documents. The scheme began when Stone received a fax offering him 20 percent commission if he helped move $22 million to an off-shore account, he told The Spokesman-Review in 2002.
"It all looked very official and businesslike," Stone said at the time.
He took six trips to Madrid, Spain, that year to meet the perpetrators of the scam. According to the federal indictment, Stone racked up $1,400 in charges at the Intercontinental Princess Sofia Hotel in Barcelona; $273 in language lessons from the Berlitz school in Madrid; $590 at Gucci Madrid; and nearly $1,800 in purchases from a Madrid jeweler.
In the 2002 interview, Stone recalled a conversation with one of the Nigerians, who was trying to get Stone to invest more in the scheme.
"I told him, 'I'm not a rich man. I've drained every single penny of my retirement and I've also borrowed money,' " Stone said. In the 2002 article, he said the scam cost him $250,000 and threatened his marriage.
The indictment said Stone attempted to cover up the misuse of pension funds by providing an auditor with a receipt for a payment to the plan for $46,500 – a receipt that really was for only $6,500 and was allegedly altered to reflect a higher amount.
Stone frittered away company funds on other personal purchases, the indictment said. Stone spent more than $1,000 on human growth hormone supplements from the Ageless Foundation in Miami Beach; $420 on a 14-karat necklace; $6,300 for computer software; and $1,900 on a master's degree in business administration from a diploma mill, court papers said.
Stone told Alpha Health's bookkeeper that the $1,900 was for "continuing education," according to the indictment.
His alleged embezzlement also included disingenuous transactions regarding his Post Falls residence, according to a U.S. Department of Labor lawsuit.
In 2000, the pension plan purchased a $95,000 home in Pioneer Ridge, a Post Falls subdivision, and paid for remodeling work on the house, which became the residence of Stone and his wife, Cynthia, according to the Department of Labor suit and another filed by the pension plan. The couple lived in the house rent-free, and the plan paid for their utilities, the lawsuits said.
Eighteen months later, the Stones bought the home. But the pension plan reimbursed Stone for the remodeling, which it had paid for in the first place, court papers said. Stone denied receiving free rent or remodeling reimbursements in the documents.
In August 2003, the board announced to its shareholders that Stone had been fired. Later that month, Stone participated in a shareholders meeting via telephone from Caesar's Palace, a Las Vegas casino.
"He was asked when he intended on repaying the money he had taken," according to minutes from the meeting. "His only response was that we would have to ask his lawyer."
Alpha Health is now defunct. The company filed for bankruptcy in February 2004, listing $1.4 million in debts, including unpaid wages to workers. A Boise nonprofit organization, operating as Seven Oaks Community Homes, took over services to Alpha Health's clients.
Shareholders for Alpha's pension plan sued Stone earlier this year.
Stone's personal finances remain in turmoil. He has filed for bankruptcy. In a suit filed this spring, U.S. Bankruptcy Trustee Ford Elsaesser accused Stone of withholding information about offshore bank accounts and two pieces of property that Stone and his wife allegedly own in Columbia, S.C.
Stone denied concealing assets from the bankruptcy court. His bankruptcy case is ongoing.
He is also named in a lawsuit filed by Tidyman's. The grocery chain claims it is owed nearly $50,000 on an unpaid charge account opened by Stone on behalf of Alpha Health.
About 130 employees worked for Alpha Health before it closed. To his knowledge, none of them received a pension, said George Breitsameter, an assistant attorney with the U.S Department of Justice.
George Kleinert, a former Alpha employee, said he's still fighting for his pension, which he estimates at more than $20,000. He's holding out hope that the pension plan's insurer can recoup some of the loss.
At a time when he expected to be enjoying retirement, Kleinert went back to work so he could afford health care.
Some of his former co-workers lost their homes after financial mismanagement brought the company to its knees, he said.
"It created quite a hardship on quite a few people," Kleinert said. "Quite a few people lost what they worked so hard for."
Local journalism is essential.
Give directly to The Spokesman-Review's Northwest Passages community forums series -- which helps to offset the costs of several reporter and editor positions at the newspaper -- by using the easy options below. Gifts processed in this system are not tax deductible, but are predominately used to help meet the local financial requirements needed to receive national matching-grant funds.
Subscribe now to get breaking news alerts in your email inbox
Get breaking news delivered to your inbox as it happens.
---