Sports
Hasselbeck on target in Seattle win
Sun., Aug. 28, 2005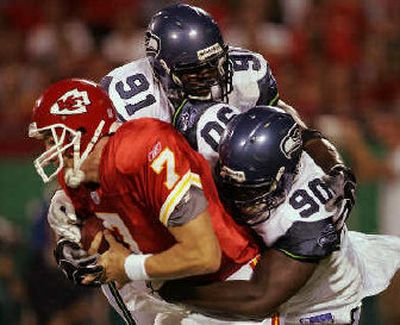 KANSAS CITY, Mo. – Larry Johnson showed Mike Holmgren something he never wants to see again.
In the second quarter of Seattle's 23-17 preseason victory over Kansas City Saturday night, Johnson burst through a big hole and sped 97 yards untouched for a touchdown.
"The Chiefs will be able to run pretty well against most people," said the Seattle coach. "Having said that, a 97-yard run – you never want to see another one of those. You never expect that. Take that one out and I think we had a decent job defensively."
Matt Hasselbeck hit 22 of 33 passes for 254 yards and two touchdowns for the Seahawks (2-1), who played Dallas on Monday night and had little time to prepare for the Chiefs.
Darrell Jackson, used only sparingly the first two preseason games, caught seven passes for 99 yards and one touchdown over the winless and quarterback-challenged Kansas City.
With the Nos. 2 and 3 quarterbacks sidelined by injury, the Chiefs last week signed Jonathan Quinn, a journeyman whose career appeared over when nobody invited him to training camp. After two series, a sharp-looking Trent Green came out and Quinn came on for his first game action since he was with the Chicago Bears last year.
Quinn, who has appeared in 17 games the past seven years with Jacksonville, Kansas City and Chicago, went the rest of the way and was 11 of 23 for 126 yards. He was sacked twice and missed three times from the Seattle 9 in the closing seconds.
"Early in the week (Green) had a numbness develop in his calf that went down into his toe," Chiefs coach Dick Vermeil said. "He could play, but after the second series, because it was bothering him, we just took him out. It comes and goes."
Last weekend, Quinn was home channel-surfing through the preseason games and wondering if his career might be over.
"I wasn't sure," he said. "I hadn't played, wasn't invited to a training camp. I was just hoping to get in somewhere before the year was over. It felt good to get out there and play some football."
Jackson, who had been limited to one catch for 3 yards in the first two exhibition games while the Seahawks took a look at other receivers, capped a three-play, 55-yard drive in the first quarter by beating cornerback Patrick Surtain on a 36-yard touchdown pass.
Surtain was also beaten on a couple of Hasselbeck's other passes.
"It was just one of those nights," he said. "We have a lot of things to improve on, but we did a lot of things pretty good tonight."
Hasselbeck put the Seahawks on top 17-14 in the third period with an 8-yard pass to Shaun Alexander and also had a 27-yard completion to Jerheme Urban.
Johnson, who's been complaining for two years of not getting enough carries behind Priest Holmes, broke through a big hole in the second quarter and went 97 yards for the Chiefs' second TD. Pro Bowl fullback Tony Richardson gave him a great block, he burst into the secondary and outran the pursuit.
"I was kind of hesitant because I can't believe how open (the hole) was," he said. "Usually you're waiting for a linebacker to make a move and there was no one. Once I got through and saw that I could explode, I did. I was running like a pack of wolves were after me."
Green was flawless on his first six passes. He was 5 for 5 in an eight-play, 80-yard touchdown drive on the Chiefs' first possession, capped by his 4-yarder to Tony Gonzalez, who used his 6-foot-5 height to outjump 6-0 Tracy White.
But after hitting Eddie Kennison on a 9-yard toss on the Chiefs' second possession, Green was intercepted by Andre Dyson and never heard from again.
"We scored on the first drive and were moving the ball and the one bad play," Green said. "So we said, 'You know what? Everything's moving pretty good. Why take any chances?' I understand where coach is coming from."
Local journalism is essential.
Give directly to The Spokesman-Review's Northwest Passages community forums series -- which helps to offset the costs of several reporter and editor positions at the newspaper -- by using the easy options below. Gifts processed in this system are not tax deductible, but are predominately used to help meet the local financial requirements needed to receive national matching-grant funds.
Subscribe to the sports newsletter
Get the day's top sports headlines and breaking news delivered to your inbox by subscribing here.
---