News > Features
You can get in to this party even if you don't know Diddy
Sun., Aug. 28, 2005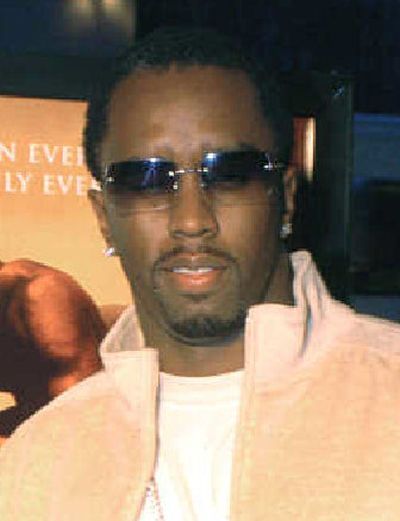 Scoring an invite to one of Diddy's dazzling, decadent bashes is a notoriously difficult get.
But tonight, the hip-hop mogul formerly known as P. Diddy, Puff Daddy and Puffy is relaxing his stringent admission rules for a celebration that's not just for the sexy people, but for everyone.
The only requirement is tuning to MTV at 8 for the Video Music Awards. Diddy will host what may be his largest, wildest extravaganza to date, with a guest list that includes Mariah Carey, Jessica Simpson, 50 Cent, Green Day, Kelly Clarkson, Usher, Eva Longoria and Kanye West.
"We've had so many different kinds of people hosting the show, and what Diddy brings to it is this incredible sense of party," said Christina Norman, MTV president.
"He's a showman, he's a master of ceremonies, his own parties are legendary. … He's the one to get on the mike and rock the mike and make sure that everybody has a good time."
Though he's known for his braggadocio, Diddy (aka Sean Combs) seemed downright humble when he talked about his upcoming duties, despite joking (we think) about plans to run onstage naked during the festivities.
"It was definitely a privilege and an honor. The timing is right," he said. "I think a lot of things that I've done has built me up to this moment … hosting is a certain art form, and hosting all those parties and showing people a good time is what I specialize in."
Like a Diddy party, the MTV awards will incorporate his signature style. The red carpet is out; his white carpet is in.
And while there's no strict dress code, Diddy does expect celebrities attending – even the grungiest rockers – to be decked out in their most fashionable duds.
He's even giving $50,000 each to the best-dressed male or female celebrity, to go to their favorite charity – and he's coined it the Diddy Fashion Challenge.
"It's not even a thing that I want you to come in gowns and things. That's for the Oscars," he said.
"I'm talking about be artistic in your fashion style and celebrate. We're celebrating each other that night, it's a celebration. And that's what I'm hosting, I'm not hosting an awards show, I'm hosting a celebration, and a moment in musical history."
Unlike previous hosts such as Chris Rock, Jimmy Fallon or Jamie Foxx, Diddy won't have a monologue and doesn't plan to crack jokes.
"The moments that are going to be funny, they need to be natural funny moments, things that I'm comfortable with, and the rest of the time I need to make sure that I host the show and keep it moving," he said.
He's enough of a party planner to know the best parties are all about the guests – and not about the host.
"It ain't the Diddy show, it ain't the MTV show, it's the show for the fans and the recording artists," he said. "I'm there to entertain."
The birthday bunch
Actor Ben Gazzara is 75. Actor David Soul is 62. Singer Wayne Osmond (the Osmonds) is 54. Actor Daniel Stern is 48. Actress Emma Samms is 45. Country singer Shania Twain is 40. Actor Billy Boyd ("Lord of the Rings") is 37. Actor-singer Jack Black is 36. Actor Jason Priestley is 36. Actress Carly Pope ("Popular") is 25. Country singer Leann Rimes is 23.
Local journalism is essential.
Give directly to The Spokesman-Review's Northwest Passages community forums series -- which helps to offset the costs of several reporter and editor positions at the newspaper -- by using the easy options below. Gifts processed in this system are not tax deductible, but are predominately used to help meet the local financial requirements needed to receive national matching-grant funds.
Subscribe now to get breaking news alerts in your email inbox
Get breaking news delivered to your inbox as it happens.
---