Sports
Brink ready to roll, looks forward to UI
Tue., Aug. 30, 2005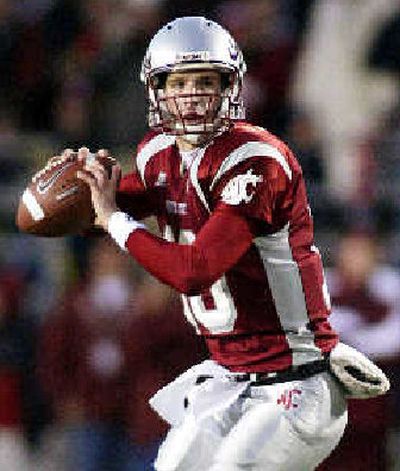 PULLMAN – He's had a week now with the starting quarterback job under his belt, and now Alex Brink can think of only one thing – actually playing another team.
"Finally," Brink said of the season opener Thursday night against Idaho. "We're ready to get after it, the real season."
While coaches might like to have an unlimited amount of time to prepare for the beginning of a season, they know they must have their locker room ready in just two days. And a big part of that rests in the hands of Brink, the sophomore who has been handed the keys to the Washington State offense.
"He's done a nice job," quarterbacks coach Timm Rosenbach said. "There's still kind of a lot of thinking going on getting ready to play this game. It's kind of like, 'Let's get there.' "
Brink appears to have settled into the starter's role nicely in practices, and still talks the same confident game he did when he was just a contender for the job.
After taking over in the last five games of 2004, Brink seems to be well-positioned to carry some momentum into this season.
In particular, his wins down the stretch of last season might give him a leg up when the ball is kicked off in Martin Stadium.
"The feeling I get is that he just wants to keep going what he got rolling at the end of last year," Rosenbach said. "It was such a positive thing at the end of the year with UCLA and the Apple Cup, he can continue to keep it rolling from that."
But at the same time, Brink was handed the job last year when Josh Swogger got hurt and this year won it in open competition. To the sophomore, that's an important distinction.
And as such, he said that he doesn't view this year as a continuation so much as a new chance to establish himself as a Pac-10 quarterback.
"It feels like I have a whole lot more to prove, a new set of goals and a new set of things from the beginning of the season," he said. "I just have to be able to protect the football, get the ball in the hands of the right people and move the offense."
As a freshman playing last year, Brink sometimes appeared to be wide-eyed under the pressure. This year, his coaches see a more mature player, one they think will perform better as well.
And as Brink himself indicated, the only thing left is to show that's true on the field.
"I think he's a little more relaxed, which is natural," head coach Bill Doba said. "He's going to have the ball in his hand. We'll just see how he does."
Notes
Safety Husain Abdullah was able to participate in practice Monday for the first time since sustaining a left ankle sprain on Aug. 19. As a result, his status for Thursday's game is still up in the air. … Riley Fitt-Chappell, the team's long snapper on extra points and field goals, had missed practice earlier this week with a right ankle sprain, but he returned and should play against Idaho. … Fullback Jed Collins will also play Thursday night despite having what Doba described as a "catcher's mitt" on his right hand to protect a fractured thumb. … Another fullback, senior Brandon Asuega-Stark, has been given a scholarship for this season.
Local journalism is essential.
Give directly to The Spokesman-Review's Northwest Passages community forums series -- which helps to offset the costs of several reporter and editor positions at the newspaper -- by using the easy options below. Gifts processed in this system are not tax deductible, but are predominately used to help meet the local financial requirements needed to receive national matching-grant funds.
Subscribe to the sports newsletter
Get the day's top sports headlines and breaking news delivered to your inbox by subscribing here.
---