News > Nation/World
Bush touts Medicare prescription benefit
Tue., Aug. 30, 2005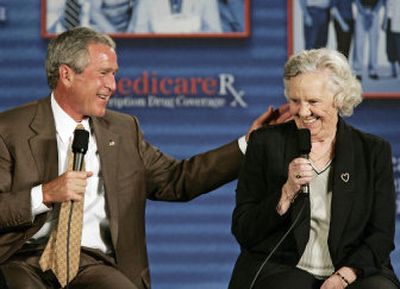 EL MIRAGE, Ariz. – Shifting his focus from the war in Iraq to the home front, President Bush on Monday prodded sons and daughters to help their parents sign up for the new Medicare prescription-drug benefit.
Bush touted the drug plan to senior citizens in Arizona and California. The drug coverage starts Jan. 1, and senior citizens will get their enrollment packets by mail in October.
Some advocates for seniors worry that the plan's complexity will scare off elderly Americans and keep enrollment low. Medicare recipients will face a variety of drug plans, with different options for different income groups.
The monthly premium for drug coverage is expected to be about $32, but the Health and Human Services Department announced Monday that most Medicare recipients also will have the option of a stripped-down plan for less than $20 a month.
Seniors who earn less than $15,000 a year will get the most generous benefits, with minimal premiums. Medicare officials estimate that about one-third of older Americans can qualify for the low-income coverage.
Bush got a chance to see the skepticism among seniors when he urged audience members who are struggling financially to apply for the low-income program. The Social Security Administration started mailing application forms to low-income seniors earlier this summer.
"The good news is, it's a simple application. It's four pages long," the president said, drawing titters from an audience that didn't seem to appreciate the government's attempt at simplicity.
"Well, it could be 40," Bush responded. "Big print."
He called on younger Americans to help their parents navigate the system.
"All of us have a duty to find out what's available for our parents," he said during a visit to the Pueblo El Mirage RV and Golf Resort near Phoenix.
The president spoke to about 400 residents and workers at a mobile home park that requires residents to be at least 55 years old.
He delivered a similar pitch later in the day at a senior citizens' center in Rancho Cucamonga, Calif.
Local journalism is essential.
Give directly to The Spokesman-Review's Northwest Passages community forums series -- which helps to offset the costs of several reporter and editor positions at the newspaper -- by using the easy options below. Gifts processed in this system are not tax deductible, but are predominately used to help meet the local financial requirements needed to receive national matching-grant funds.
Subscribe now to get breaking news alerts in your email inbox
Get breaking news delivered to your inbox as it happens.
---