News > Business
Laptop maker Itronix hopes to cash in on Hummer cachet
Tue., Aug. 30, 2005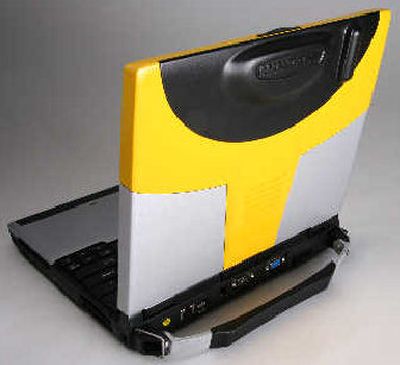 Acer Inc. made a splash two years ago by launching a sexy crimson laptop computer based on the Ferrari sports car.
Spokane-based Itronix Corp. will be looking for a piece of the cool-laptop action when it unveils its muscular competitor, named after the Hummer sport utility vehicle.
For several years, Itronix has showcased its rugged laptops by loading them into a bright-yellow Hummer H2 and parking it at trade shows.
This fall, the company will start selling a line of laptops that sport the Hummer logo and come in swaggering hues of bright yellow, red and pewter.
Priced at $2,990, the laptops are aimed at a small-business and consumer market that Itronix doesn't reach now in great numbers, said Tim Hill, senior product marketer.
Unlike Itronix's "ultra-rugged" laptops that military and law enforcement customers pay more for, the Hummer laptop is designed for mobile business owners and even college students who want something a little tougher than a standard laptop, said Hill.
"We see owners of Hummers and Hummer enthusiasts as part of that market," he said.
Itronix isn't expecting to sell boatloads of Hummers, said Matt Gerber, the firm's vice president of product line management.
"You don't see a Hummer on every street corner. So we're trying to appeal to the person who wants a laptop with the same attributes a Hummer has," Gerber said.
In the marketing language Itronix uses, the Hummer machine is "semirugged," meaning it will hold up to short drops or bangs and will withstand spills but not full immersion in water.
It comes with the same magnesium alloy case as the Itronix workhorse unit, the GoBook, said Marie Hartis, Itronix spokeswoman.
General Motors, the company making the Hummer vehicle, contacted Itronix officials early this year and began discussing the cross-branding possibilities.
"They contacted us, but we had been thinking about it also," Hartis said. The two companies developed a plan to share the sales revenue, but Hartis said that formula won't be disclosed.
Local journalism is essential.
Give directly to The Spokesman-Review's Northwest Passages community forums series -- which helps to offset the costs of several reporter and editor positions at the newspaper -- by using the easy options below. Gifts processed in this system are not tax deductible, but are predominately used to help meet the local financial requirements needed to receive national matching-grant funds.
Subscribe now to get breaking news alerts in your email inbox
Get breaking news delivered to your inbox as it happens.
---