News > Nation/World
Storm leaves swath of destruction before losing intensity, heading inland
Tue., Aug. 30, 2005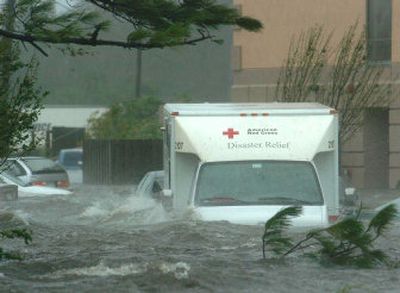 NEW ORLEANS – Hurricane Katrina was not the apocalyptic storm that New Orleans has been dreading all these years. But it was fast approaching that level in nearby Gulf Coast towns in Mississippi.
The early death toll from the storm was at least 55, including an estimated 50 people in one Mississippi county alone, said Jim Pollard, spokesman for the Harrison County emergency operations center.
The deaths were accompanied by widespread destruction. Floodwaters gushed into Mississippi's flashy beachfront casinos. Sailboats were flung across a highway like toys. Dozens of people had to be rescued from rooftops and attics as the water rose through their homes. Some neighborhoods in the Big Easy were submerged up to their roofs.
And the death toll is expected to go up as authorities reach more flood-ravaged homes along the Gulf Coast.
"Some of them, it was their last night on Earth," Terry Ebbert, chief of homeland security for New Orleans, said of people who ignored orders to evacuate the city of 480,000 over the weekend. "That's a hard way to learn a lesson."
Katrina barreled into the Gulf Coast just outside New Orleans around daybreak Monday as a monstrous 145-mph storm, making a right turn at the last minute to spare the Big Easy the doomsday scenario it long has feared. Had Katrina not shifted, hurricane waters could have spilled over levees and swamped the saucer-shaped city in a toxic soup of refinery chemicals, sewage and human bodies.
Three people were killed by falling trees in Mississippi and two died in a traffic accident in Alabama, authorities said. The bulk of the deaths in Harrison County occurred at an apartment complex in Biloxi, Pollard said.
"The major tragedy is that the deaths were preventable," he said.
Katrina knocked out power to more than a million people from Louisiana to the Florida's Panhandle, and authorities said it could be two months before electricity is restored to everyone. Ten major hospitals in New Orleans were running on emergency backup power.
The federal government began rushing baby formula, communications equipment, generators, water and ice into hard-hit areas, along with doctors, nurses and first-aid supplies. The Pentagon sent experts to help with search-and-rescue operations.
Katrina was later downgraded to a tropical storm as it passed through eastern Mississippi, moving north at 21 mph. Winds were still a dangerous 65 mph.
Forecasters said that as the storm moves north through the nation's midsection over the next few days, it may spawn tornadoes over the Southeast and swamp the Gulf Coast and the Tennessee and Ohio Valleys with a potentially ruinous 8 inches or more of rain.
Katrina had menaced the Gulf Coast over the weekend as a 175-mph, Category 5 monster, the most powerful ranking on the scale. But it weakened to a Category 4 and came ashore around daybreak near the Louisiana bayou town of Buras, passing just east of New Orleans on a path that spared the Big Easy — and its fabled French Quarter — from its full fury.
In nearby coastal St. Bernard Parish, the storm surge swamped an estimated 40,000 homes. In a particularly low-lying neighborhood on the south shore of Lake Pontchartrain, a levee on a canal gave way and forced dozens of residents to flee or scramble to the roofs when water rose to their gutters.
"I've never encountered anything like it in my life. It just kept rising and rising and rising," said Bryan Vernon, who spent three hours on his roof, screaming over howling winds for someone to save him and his fiancee.
Across a street that had turned into a river bobbing with garbage cans, trash and old tires, a woman leaned from the second-story window of a brick home and pleaded to be rescued.
"There are three kids in here," the woman said. "Can you help us?"
Louisiana Gov. Kathleen Blanco said 200 people have been rescued in boats from rooftops, attics and other locations around the New Orleans area, a scene playing out in Mississippi as well. In some cases, rescuers are sawing through roofs to get to people in attics, and other stranded residents "are swimming to our boats," Blanco said. In one rescue, a person was plucked from a roof by a helicopter.
A fire later tore through a yacht club near Lake Pontchartrain.
Elsewhere along the Gulf Coast, Mississippi was subjected to both Katrina's harshest winds and highest recorded storm surges – 22 feet. The storm pushed water up to the second floor of homes, flooded floating casinos, uprooted hundreds of trees and flung sailboats across a highway.
"Let me tell you something, folks: I've been out there. It's complete devastation," said Gulfport, Miss., Fire Chief Pat Sullivan.
In Gulfport, young children clung to one another in a small blue boat as neighbors shuffled children and elderly residents out of a flooded neighborhood.
"Everything is flooded. Roofs are off and everything," said Shun Howell, 25, who was trying to leave with her 5-year-old son. "Everything is ruined."
In some cases, debris was stacked 4 to 5 feet, covering cars. Houses were washed from their foundations.
In Alabama, Katrina's arrival was marked by the flash and crackle of exploding transformers. The hurricane toppled huge oak branches on Mobile's waterfront and broke apart an oil-drilling platform, sending a piece slamming into a major bridge.
Muddy 6-foot waves crashed into the eastern shore of Mobile Bay, flooding stately, antebellum mansions and littering them with oak branches.
"There are lots of homes through here worth a million dollars. At least they were yesterday," said a shirtless Fred Wright. "I've been here 25 years, and this is the worst I've ever seen the water."
A giant water main broke in New Orleans, making it unsafe to drink the city's water without first boiling it. And police made several arrests for looting.
At New Orleans' Superdome, home to 9,000 storm refugees, the wind ripped pieces of metal from the roof, leaving two holes that let water drip in. A power outage also knocked out the air conditioning, and the storm refugees sweltered in the heat.
Katrina also shattered scores of windows in high-rises and on five floors of the Charity Hospital, forcing patients to be moved to lower levels.
In the French Quarter, made up of Napoleonic-era buildings with wrought-iron balconies, the damage was relatively light.
On Jackson Square, two massive oak trees outside the 278-year-old St. Louis Cathedral came out by the roots, ripping out a 30-foot section of ornamental iron fence and straddling a marble statue of Jesus Christ, snapping off the thumb and forefinger of his outstretched hand.
Local journalism is essential.
Give directly to The Spokesman-Review's Northwest Passages community forums series -- which helps to offset the costs of several reporter and editor positions at the newspaper -- by using the easy options below. Gifts processed in this system are not tax deductible, but are predominately used to help meet the local financial requirements needed to receive national matching-grant funds.
Subscribe now to get breaking news alerts in your email inbox
Get breaking news delivered to your inbox as it happens.
---