News > Nation/World
Threats still troubling in Darfur
Tue., Aug. 30, 2005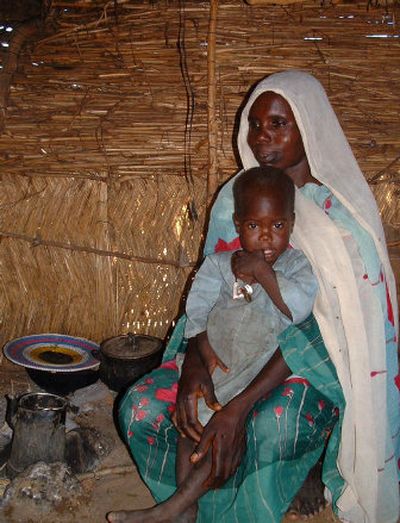 EL-GENEINA, Sudan – The killings and burnings of homes have diminished since terrified villagers in Sudan's West Darfur state fled to camps for the displaced, and African Union soldiers arrived to protect them.
But a campaign of intimidation blamed on semi-nomadic Arabs known as the Janjaweed continues, and has cut so deeply into the local psyche that refugees can't shake their fear of going home.
Many of those in the camps complain it still is not safe even to venture to the outskirts of the compound, let alone trek to far-off villages.
"If we go outside the camp, we might be raped. If we go back to the village we may be killed," said Ashya Diar Sugu, who has lived at Riad camp on the outskirts of el-Geneina since the nomads attacked her home two years ago. They killed her husband.
The confinement is intensely felt by the rural folk. A short walk beyond the edge of the camp to collect firewood has regularly left women beaten and robbed, and often raped, by attackers they say are Arabs. Men in the camps rarely venture out, saying they likely would be killed.
On a small rise at the edge of Riad camp, armed men on horses or camels are sometimes visible, grim reminders to the refugees of why they fled here and why they don't dare leave.
Those men on horse- and camel-back – the refugees call them Janjaweed, Peshmarga (for militia) or just Arabs – are the ones accused of the killing, rapes and burning of villages in a scorched-earth campaign to drive the settled, farming population from the region.
The village farmers and the so-called nomadic Arab cattle-herders have long competed for scarce resources in Darfur. Both groups are Africans and Muslims, but the nomads are called Arab because of their cultural affinity to that ethnic group, which is dominant in the north of Sudan.
The conflict has been labeled African vs. Arab, but, much like Sudan's southern civil war, it is an economic and political fight over resources and governing.
In February 2003, Darfur rebels began attacking government targets, complaining of discrimination and neglect. Khartoum is accused of responding by arming the Janjaweed to counterattack. The government denies links to the Janjaweed but says it has "self-defense militias" in Darfur.
The United Nations estimates more than 1.9 million people were displaced since the violence began, and at least 180,000 people killed. The African Union has stepped in with about 3,000 peacekeeping troops – the number is expected to rise to 12,000 – and has helped negotiate a number of hit-and-miss cease-fires.
A sixth round of peace talks between the two main rebel groups and the government is to begin Sept. 15 in Abuja, Nigeria.
Near el-Geneina, despite their fear, a small but growing number of women have begun to leave the camps for short trips to their villages to tend crops – putting the need to feed families above memories of Janjaweed terror. The nomads have taken to letting their cattle and camel herds graze on and trample cropland in an attempt to push the villagers away again.
Medina Khalil Arbab, who returned to her home village for the growing season, has planted crops four times this year. Two times, Arab men from a nearby settlement led their cows and camels into her fields and threatened to beat her if she complained. A third time heavy rains washed away her efforts. Now she cultivates a smaller plot – sorghum, okra and tomatoes – and has been left alone, so far.
Arbab, 25, came from Dorti camp two months ago with her four children to tend her fields in Borta, about 12 miles from el-Geneina. They live in a 9-foot by 6-foot flat-roofed hut built of sticks, covered with white and blue tarps.
Arbab said she would load two donkeys with her harvest and make two trips a day for three to five days to move everything to Dorti before it can be stolen from the fields.
She said 68 households fled to Dorti, 64 of whom have returned temporarily this year to work their fields.
"The situation still remains far from ideal," said Filippo Rossi, a protection officer with the U.N. refugee agency who focuses on helping villagers return to their homes in West Darfur. "At least this year the people are taking some initiative to resume their lives, going home for cultivation. The courage is there."
But it is the need for food more than courage that has women venturing home.
Kultuma Esaak Mohammed, 24, rides four hours each way on a donkey with her 5-month-old son to farm her land twice a week. She says she has been beaten many times by Arabs who then rob her. The donkey she was riding was a recent purchase, after the last one was stolen.
Local journalism is essential.
Give directly to The Spokesman-Review's Northwest Passages community forums series -- which helps to offset the costs of several reporter and editor positions at the newspaper -- by using the easy options below. Gifts processed in this system are not tax deductible, but are predominately used to help meet the local financial requirements needed to receive national matching-grant funds.
Subscribe now to get breaking news alerts in your email inbox
Get breaking news delivered to your inbox as it happens.
---