News > Spokane
It's all downhill for Valley sledders
Mon., Dec. 5, 2005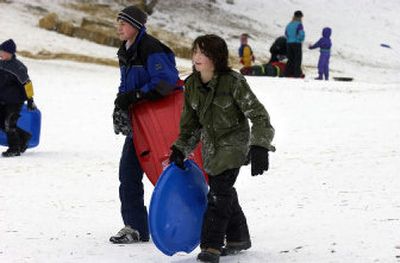 Oh, come to the hill, you brothers of gravity, to feel the wind in your faces and snow up your pant legs, to jump the bushes, the picnic tables and any unwary bystander.
Come to the hill with your Flexible Flyers and garbage-can lids, your inner tubes and cafeteria trays.
Snow blankets the steep slopes of Valley Mission Park, and we've been driven mad by the earth's pull.
Let's walk the hill at sundown to take in the friction-defying masses hurtling to the same low point like particles in a collider.
It is Spokane Valley's first real snow day. Fathers bend like oil derricks in the frozen parking lot at the drained public pool as they pump air into inflatable sleds. Teenage girls dangle their feet from open car doors as they struggle to slip on snow pants and boots without letting their socks touch the ground.
The snow is not even a day old, and already it is as trampled as any barnyard. On the hill's edge, Ron Fabros stands with his children, Rachelle and Shane, convinced they were wise to shelve their other plans and head to the hill.
Snow is every December's post-Thanksgiving "it" commodity. There are no rain checks or advance orders. It is first come, first served. Already, brilliant white is giving way to earth and grass on the most-traveled trails.
"We were going to wait until the weekend, but I thought it would be too busy," Fabros said. "This is our first night."
The trio hit the hill running, belly-flopping into position before screaming downhill, face-first. The Fabroses come to a stop mere feet from where Kyle Stroud, 11, and Josh Haight, 8, are brushing themselves off and readying for the steep 60-yard trudge back to the top.
Kyle and Josh are brothers who live a few blocks away. They sled on large plastic saucers that are big on speed but impossible to steer. The older of the two keeps overheating in his thick winter coat and opts instead to sled in his T-shirt.
By now, it's almost 5 p.m., and the mob behind the cacophony of screams and squeals probably numbers 60 or more. Interstate 90 is less than 100 yards from the bottom of the hill, and as rush-hour traffic picks up, there's a sizzle in the air from all the wet studded snow tires.
The trick to sledding in this atmosphere – where so much of the action blurs into white noise – is, as Kyle puts it, "just to try not to hit anybody." But the first day of sledding, like the community's first day of driving in snow, is overflowing with thrills and spills no matter how slow one goes or how careful people are to stay in their own lane.
Kyle's lane includes a Gelande-style sled jump constructed of hay bales that once served as a guardrail around a thicket of nearby bushes. Kyle sails over the ramp's lip and lands with a thud.
There are bigger jumps, Kyle says. And he is right. Halfway down the hill's easternmost edge, daredevils have transformed a picnic table into a ramp of Evel Knievel proportions.
Snowboarders dominate the hill's east end. They slide to the crest of the massive ramp, then slip over the edge and ride the picnic table's backside. No one risks total liftoff or an airborne trip into an old horse stable at the bottom of the hill.
But people are gathering to watch a 22-year-old man sled, standing up, into a thick bush. Eric Lybbert attempts the stunt on a long curved piece of plastic that resembles a wheelless skateboard more than a snowboard.
He eyes the steep ramp that leads directly into the bush's base, with a good 3 feet of plant protruding upward from the ramp's lip. If this is Lybbert's door to destiny, it is one leading to a wall of stems and stickers. He hurtles himself into the obstacle and sticks to it like Velcro.
"It feels good," Lybbert shouts to the spectators above, before saying more quietly, "I think there's stickers in there."
Lybbert reaches the top of the hill, but gravity's lure pulls him downward, down to the bottom where a brotherhood is forming among all those mad to lose their footing on the newly fallen snow. Their pant legs are wet. Their faces are wind-chapped. But they know it won't last long.
Local journalism is essential.
Give directly to The Spokesman-Review's Northwest Passages community forums series -- which helps to offset the costs of several reporter and editor positions at the newspaper -- by using the easy options below. Gifts processed in this system are not tax deductible, but are predominately used to help meet the local financial requirements needed to receive national matching-grant funds.
Subscribe now to get breaking news alerts in your email inbox
Get breaking news delivered to your inbox as it happens.
---