Militant Islam gains 'holy war' recruits
Mon., Dec. 5, 2005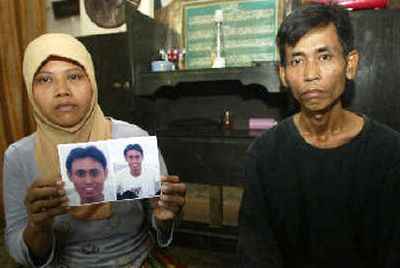 PAMARICAN, Indonesia – Aip Hidayat was a devout Muslim but showed no signs of fanaticism. He did not force his younger sister to wear a head scarf, chastise friends for skipping prayers or get into fiery debates about the U.S. war in Iraq.
Yet the 21-year-old became the seventh person to carry out a suicide bombing in Indonesia, something many said was inconceivable just a few years ago.
Hidayat's mother says al-Qaida-linked terrorists recruited her eldest son as a foot soldier for their "holy war," poisoning his views on Islam so he would take part in triple suicide bombings on Oct. 1 that killed 20 people on the resort island of Bali.
"They used him," Siti Rokayah, 40, said quietly, sitting on a straw mat in a cramped two bedroom hut, photographs of a smiling and carefree Hidayat scattered before her. "I hope whoever did this to my son will be arrested and punished."
Indonesia is the world's most populous Muslim nation, but most people here practice a moderate form of the faith.
The secular government has responded by launching its first-ever campaign against hard-line interpretations of Islam – something it shied away from doing in the past for fear of being seen as subservient to the United States.
"What is happening is that today we arrest 10 people, but the ideology continues, and the extremists can recruit 50 more people," Vice President Yusuf Kalla said, calling on Islamic leaders and politicians to help change that.
For emphasis, he showed them videotaped confessions of Hidayat and the two other Bali bombers, some of them laughing and saying they expected to go to heaven the next day.
"Not just me, but the clerics, too, were shocked," Kalla said.
The Jemaah Islamiyah terrorist network first emerged in the early 1990s with the goal of creating an Islamic state across Southeast Asia. But it has been reinvigorated by U.S. foreign policy in Israel and the wars in Iraq and Afghanistan.
"They see themselves as fighting a new world battle. … They say, we can attack civilians anywhere, just as Americans attack Muslim civilians all over the world," said Nasir Abbas, a key Jemaah Islamiyah operative until his arrest in 2003 on immigration charges.
"They say their intention is not to kill Muslims … but (the) feeling is: 'We are in battle, we use anything we have, anything we are able to do, we do,' " said Abbas, who cooperating with police to expose the inner workings of the network.
Hundreds of Jemaah Islamiyah members have been arrested in a regionwide crackdown and the remaining leaders are on the run, making it hard but not impossible to find new recruits – as the Oct. 1 bombings showed.
In the past, the group relied heavily on a handful of Islamic high schools committed to jihadist principles – the most notorious of which was founded by the group's alleged spiritual leader, Abu Bakar Bashir. It is now under close government watch.
They appear now to be turning to people like Hidayat who, at least outwardly, showed no militant tendencies.
"In at least a couple of cases, it looks like they're going after the lowest common denominator, relatively simple village boys, and recruiting them with frightening ease and dizzying speed," said Ken Conboy, author of several books on Southeast Asian terrorism.
"Sometimes the guy's gone for just a few weeks or months and he's strapping bombs to his back."
Among the promises made to the would-be bombers is that martyrdom is a fast track to heaven – not just for them, but for 72 of their relatives, he and others say.
Such a message would resonate with many young men whose families have lived for generations in the same poor village and see little hope of ever making something of themselves, said Solahudin Wahid, vice chairman of the country's largest Islamic organization Nadhlatul Ulama.
"Some of these young men don't have a deep knowledge of Islam and can easily be brainwashed into militancy," he said. "They are easily tantalized. Now it's our turn to teach them. Islam is not like that. Muslims are not allowed to attack if not attacked themselves."
Still, family and friends in Hidayat's village of Pamarican, surrounded by terraced rice paddies and rich tropical brush, do not understand how it happened to one of their own boys.
Though they acknowledge seeing little of Hidayat after he left for Islamic boarding school in 2000, they described the oldest of five children as a shy but serious young man, a good student who might one day become a teacher.
"As a father, what was happened with Aip has made me very worried. Can terrorists do the same to my son?" said Yayat Suhayat, a neighbor and father of three.
"All parents here have learned a very important lesson. We have to keep a closer eye on our children. … We can't lose contact with them for even one day."
Local journalism is essential.
Give directly to The Spokesman-Review's Northwest Passages community forums series -- which helps to offset the costs of several reporter and editor positions at the newspaper -- by using the easy options below. Gifts processed in this system are not tax deductible, but are predominately used to help meet the local financial requirements needed to receive national matching-grant funds.
Subscribe now to get breaking news alerts in your email inbox
Get breaking news delivered to your inbox as it happens.
---