Sports
Poffenroth joins 400 club
Wed., Dec. 7, 2005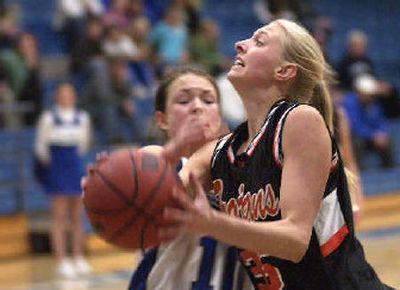 His 400th career victory didn't come quite as easily as many of the preceding wins, and to reach the milestone Dale Poffenroth had to go away from his pet defense.
Poffenroth's Coeur d'Alene girls basketball team weathered a hot-shooting start by upstart Post Falls as the Vikings rallied for a 54-49 decision in an Inland Empire League game Tuesday at Elmer Jordan Court.
After Post Falls made 11 of its first 12 shots on the way to a 28-16 lead, Poffenroth switched from his usual matchup zone to a man-to-man defense – something the Vikings spend little time practicing. The change, though, provided immediate benefits as the Trojans missed their next seven shots, allowing CdA to pull within 31-29 by halftime.
CdA used a 6-0 start in the second half to take the lead for good, but the game would be tightly contested until the end.
"It was hard to get," Poffenroth said of the landmark win that pushed his record to 400-110. "We had to work hard and had to do some manipulating and changing (defenses)."
The majority of Poffenroth's victories came years before he landed at CdA. Poffenroth, who turned 57 last month, retired at Central Valley following the 2003-04 season where his teams were a combined 374-103 in 17 years including three state titles and two state runner-up finishes.
"It's just a lot of kids that bought into a lot of things over time and a lot of parents that bought into it," Poffenroth said. "If they don't, it won't work. I came over here and the parents were really good about buying into it. They said, 'OK, what you want to do we'll do it and make it happen'. And the kids have done it."
The Vikings (5-2 overall, 3-0 in league) weren't aware that it was their coach's 400th win until after the game. School officials plan to honor Poffenroth at CdA's next home game, Dec. 20 against Moscow.
"Ever since he came here the basketball program has skyrocketed," said junior forward Jenna DeLong, who had a game-high 25 points. "We have more fans now than we've ever had. (We) have a lot of respect for Poff because he's turned this program around and makes us look good."
PF coach Chris Johnson acknowledged the special victory.
"His record speaks for itself," Johnson said. "He's been extremely successful and he's probably just going to continue."
DeLong had no idea why her team's matchup zone didn't work.
"Man defense ended up working and we don't really practice man defense a lot in practice," said DeLong, who also had seven rebounds and two assists. "It ended up working and I don't know why. They were tearing us apart in the first quarter."
DeLong had a lot of help from 6-foot-1 sophomore post Deanna Dotts, who had 18 points on 8-of-11 shooting to go with 11 rebounds and three blocked shots.
McVeigh, who was saddled with foul trouble and eventually fouled out, led the Trojans (3-2, 2-1) with 14 points on 6-of-8 shooting, including 2 of 2 from behind the 3-point arc.
"Jenny McVeigh was just having a career night and it's just too bad she got into foul trouble because she was just in a zone," Johnson said. "Everybody contributed. They played hard. We kept scrapping. That's kind of our trademark, I guess."
•In other IEL action, Sandpoint handed Lake City its second conference loss in as many games as the Bulldogs topped the Timberwolves 52-43 at LC. The Bulldogs (6-0, 2-0) pulled away in the fourth quarter, outscoring the T-Wolves (2-4, 0-2) 17-4. Kendal Burt led Sandpoint with 12 points as the Bulldogs shot 40 percent from the field to LC's 25 percent. Richelle Fenenbock led LC with 14 points, four rebounds, four assists and three steals. … At Lewiston, the Bengals (4-3, 1-3) topped Moscow (1-3, 1-2) 55-41. No details were reported.
•In a non-leaguer, Bonners Ferry held host Clark Fork scoreless in the second quarter and won 53-18. Becky Lowther led the Badgers (3-3) with 15 points. Rayna Allen led CF (0-2) with eight rebounds. … St. Michael's topped visiting Post Falls Christian 49-32. Katie Hoye led PFC with 16 points.
Boys
Coeur d'Alene started well and never cooled off as the Vikings cruised past visiting Bonners Ferry 85-46 in a non-league game. The 5A Vikings (2-2) were sparked early off the bench by Calvin Peterson, who had a game-high 23 points including three 3-pointers. CdA opened a 43-24 lead by halftime, and the Vikings padded that lead by outscoring the 3A Badgers (1-3) 25-10 in the fourth quarter. Matt Rice led BF with 15 points. Leon Duplessis and Cody Smith added 18 and 12 points, respectively, for CdA, which outrebounded the Badgers 39-26.
•In other non-league action, 3A Kellogg stymied visiting 1A Kootenai 52-29. Kellogg (4-1) limited the Warriors (0-4) to just six points in the first half. James Lloyd led Kellogg with 14 points. … Visiting Post Falls Christian handled St. Michael's 77-57. Max Munson and Josiah Manes combined for 43 points for PFC (3-0).
•In a North Star League opener, Clark Fork overcame a slow start to knock off Wallace 46-28 at Wallace. Jerad Broggi, Bill Clayton, Ben Maddrey and Mike Martin – scored 10 points each for CF (2-0, 1-0). Freshman Nick Arthun led Wallace (1-2, 0-1) with 10.
Local journalism is essential.
Give directly to The Spokesman-Review's Northwest Passages community forums series -- which helps to offset the costs of several reporter and editor positions at the newspaper -- by using the easy options below. Gifts processed in this system are not tax deductible, but are predominately used to help meet the local financial requirements needed to receive national matching-grant funds.
Subscribe to the sports newsletter
Get the day's top sports headlines and breaking news delivered to your inbox by subscribing here.
---