News > Spokane
Energy costs cited as major worry for agriculture
Fri., Dec. 9, 2005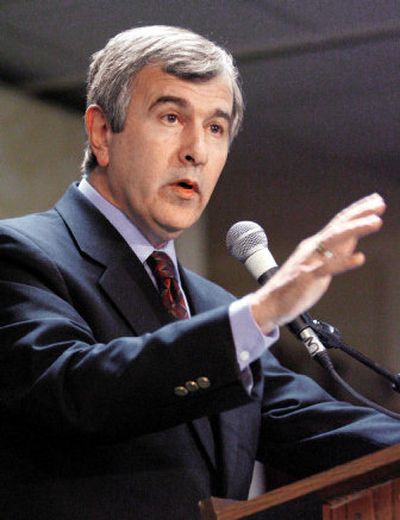 BILLINGS – High energy prices are the "biggest single financial problem" facing farmers and ranchers, U.S. Agriculture Secretary Mike Johanns said Thursday in outlining steps aimed at helping ease the pinch.
"We're doing what we can, on both a short-term and a long-term basis, to try to help in this situation," he told a convention of farmers and ranchers.
Energy costs – a consistent complaint among producers at farm forums held by federal agriculture officials – are up this year, in part because of the hurricanes that battered the U.S. Gulf Coast and to strong world energy demand, Johanns said.
He said energy costs account for up to half of the operating expenses for producing major field crops, with farmers and ranchers expected to spend an estimated $3.4 billion more on fuel and $1.7 billion more on fertilizer this year than just a year ago.
Expertise in helping implement conservation practices are available through U.S. Department of Agriculture offices, as are loan program dollars for such things as helping those facing credit issues because of high energy prices, he said. In looking further ahead, fuels from renewable sources stand to figure prominently in helping address the issue, he said.
"Many farmers and ranchers believe it's time for agriculture to add to its portfolio of food and fiber a third arm, and that is fuel," he said.
For example, energy from renewable, homegrown sources – such as ethanol, from corn – is a key part of a national energy plan and efforts to reduce reliance on foreign oil, he said. Already, ethanol production in this country is booming, with projects in the works for the further expansion of production capacity, he said, while corn production has been at or near record levels.
Ethanol or biodiesel production is fast becoming a success story, he said, "as important to American agriculture as it is to America's future, energy future."
"As we look to the future, we need long-term solutions, like renewable fuels, to help farmers position themselves to be more resilient when energy price increases occur," he said.
John Lockie, executive director of the Montana Cattlemen's Association, said in a telephone interview that energy costs are a huge concern for producers. But, he believes, competition and trade issues "far outrank" energy costs, in the eyes of many.
Johanns spoke at a gathering of the Montana Stockgrowers Association and the Montana Grain Growers Association.
Local journalism is essential.
Give directly to The Spokesman-Review's Northwest Passages community forums series -- which helps to offset the costs of several reporter and editor positions at the newspaper -- by using the easy options below. Gifts processed in this system are not tax deductible, but are predominately used to help meet the local financial requirements needed to receive national matching-grant funds.
Subscribe now to get breaking news alerts in your email inbox
Get breaking news delivered to your inbox as it happens.
---