News > Spokane
Hession's new role stirs up budget talks
Fri., Dec. 9, 2005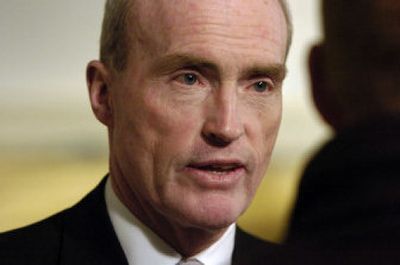 Spokane City Council President Dennis Hession on Thursday tried to act like his political life had not changed in the two days since city voters recalled Mayor Jim West for abusing his office.
Hession is slated to become acting mayor one week from today when the Spokane County auditor certifies West's ouster, less than two years after West took office. Hession is widely regarded as West's most likely replacement through council appointment, probably in early 2006.
"Until the 16th, I don't have any authority to do anything," Hession said in an interview following a key budget study session with other City Council members and top staffers Thursday.
Despite his statement, Hession now finds himself in a unique position. He is leading the City Council through final budget decisions that will affect some 2,000 employees and the array of services they provide. At the same time, he is expected to become their new boss next Friday.
Nearly all of the city's top administrators crowded into City Hall's lower level briefing center for the 3:30 p.m. budget session, many of them accompanied by their accountants.
For them, there is plenty at stake.
Hession faces the prospect of making permanent appointments for city attorney and police chief. He also will gain power to retain or fire any of about 15 other top officials without union or Civil Service protections.
Howard Delaney is the acting city attorney. Police Chief Roger Bragdon is retiring, coincidentally, on the same day that West is scheduled to depart from City Hall.
Delaney and Bragdon were at Thursday's budget meeting.
Each of the council members has an agenda, and by virtue of serving with Hession, each has ready access to make arguments about pet projects to the future mayor, who will have veto power over any legislation that passes with fewer than five votes.
For example, Councilman Bob Apple wants to eliminate several jobs in the Fire Department and convert some of the jobs into lower-salaried building officials. Apple also has proposed new cab licensing regulations and a $15 fee for every retail scanning register in the city to help pay for monitoring of scales, pumps and other consumer measuring devices.
Other council members are proposing a new business license fee of $3 per employee to help recover the cost of providing services to workers who live in the county and don't pay general city taxes, but take advantage of many city services during their work days.
Councilwoman Cherie Rodgers asked for greater accountability of a new property tax fee of $5 per parcel which goes to help fund the Spokane County Conservation District.
Council members are also seeking funds to restore nearly $300,000 in grant funds to human services agencies after Mayor West proposed cutting the human services program from $900,000 to $600,000. The money goes to help low-income residents, youth, disabled persons and seniors with an emphasis on health care.
What Hession and the other council members encountered on Thursday was a group of administration officials who were especially eager to answer questions and accommodate their wishes.
Deputy Mayor Jack Lynch tried to explain that any changes in fire staffing could be prevented by union contracts and civil service rules. However, he acknowledged that a controversial appointment of an assistant chief during the past year is not subject to civil service or contract protection, meaning the council could seek to eliminate the $103,600-a-year position from the budget. Fire Chief Bobby Williams and the assistant who holds the targeted job were both at the meeting. Williams stayed afterward to talk individually with council members.
At one point, Chief Financial Officer Gavin Cooley asked for clarification of the proposed license fee on employees. "Walk me through that again," he said.
Hession sought to ease the apparent nervousness by telling other council members, the managers and their assistants that he does not want to make any widespread changes in West's budget.
Even so, it is clear that some of West's more controversial initiatives are targeted.
Councilwoman Mary Verner wanted to know the status of the 63-acre former Playfair racetrack site, which was purchased during West's administration for $6.3 million to be used for sewer and other public improvements.
"When are we putting Playfair back on the tax rolls again?" Verner asked.
Local journalism is essential.
Give directly to The Spokesman-Review's Northwest Passages community forums series -- which helps to offset the costs of several reporter and editor positions at the newspaper -- by using the easy options below. Gifts processed in this system are not tax deductible, but are predominately used to help meet the local financial requirements needed to receive national matching-grant funds.
Subscribe now to get breaking news alerts in your email inbox
Get breaking news delivered to your inbox as it happens.
---