Sports
Pargo, P-Mac develop poise in tough times
Fri., Dec. 9, 2005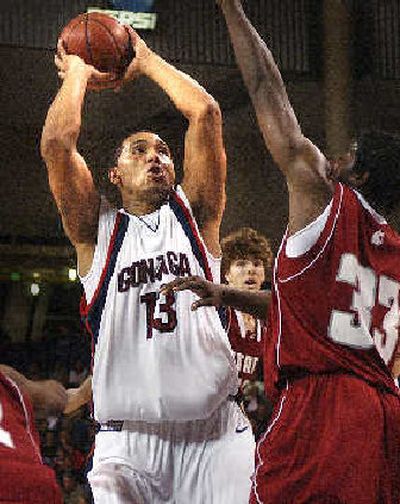 Here, in simple math, is what the Gonzaga Bulldogs don't have at the moment: 40 percent of what was expected to be the starting lineup.
Also this: the player likely to be first off the bench most nights.
And one more thing. They don't have an excuse.
This is life on the upper floors of the Top 25. Only wins pay the rent. If it's harder to scrape together those nickels, then so be it – and make no mistake, Thursday night's 67-53 victory over Washington State was hard won for the ninth-ranked Bulldogs, if never uncomfortably close.
But it's no horse race. There's no handicapping.
Circumstances do not allow the Zags to carry less weight or drop down in class, confirmed not only by their next outing – Saturday afternoon in Seattle against Oklahoma State and Eddie Sutton, he of the creased visage and the gazillion wins – but also this one.
For instance, it was pointed out to coach Mark Few that only four of his players scored on this night – not exactly the balance and variety you'd normally expect from the Bulldogs, or any other premier program.
"The bottom line," he shrugged, "is getting it done."
And the Zags still have some doers. They have the nation's leading scorer in Adam Morrison, this time with 25 points despite the laudable hounding of WSU sophomore Kyle Weaver, who hasn't exactly earned his merit badge in defense from coach Dick Bennett yet. They have J.P. Batista, who predictably wore out the Cougars inside for another 23. And this night, they even had Sean Mallon, recently MIA but as responsible as the two lead dogs for getting the Zags off to a quick jump.
And, thanks to the latest trauma –the ugly back bruise that kept Derek Raivio out of the lineup against Wazzu and has him doubtful for Saturday – they have two young guards who have to grow up, well, yesterday.
It will be fitful. It'll probably be fun.
Consider the degree of difficulty in how the names Pierre Marie Altidor-Cespedes and Jeremy Pargo roll – or must be wrestled – off the tongue and that's how different they are, other than their relative collegiate inexperience.
"One's a philosopher," said Few, "and the other one's a very confident kid who's not afraid of anything and ready to take on the world."
You couldn't say they were world beaters Thursday night, exactly. Pargo was one of the other four Zags blanked in the scorebook, and a turnover and an ill-advised 3-pointer earned P-Mac an earful from Few and a seat on the bench for the game's final minute and a half.
But Pargo also ran the show for Raivio with just one turnover in 29 minutes. P-Mac's 35 minutes were a career high – and his driving floater at the end of the first half and an important 3 midway through the second at least hinted at an offensive potential he seems reluctant to turn loose.
Does the philosopher …
"Frustrate the living blankety-blank out of me?" Few said, happy to finish the question. "Yes, he does."
Take the concept Few and his staff are trying to drive home to their youngsters in a hurry – that at this level, every possession counts. That may sound strange at GU, where if the tempo isn't up it's off, but it's something that must be grasped nonetheless.
Altidor-Cespedes acknowledges as much – but also insists that "as a player, there's a fine line and sometimes you"ve got to let your instincts go. At the same time, you try to do what the team needs you to do, but you can't be afraid to play with your instincts."
This is not exactly the issue that concerns Few when it comes to his sophomore guard's growth.
"He's got a long ways to go to understand this is a competitive arena he's put himself into," Few said, "where everything he does matters. Like (assistant coach) Tommy Lloyd says, it's like he's painting a picture out there and that's not what it is.
"He's got all the athleticism in the world and he's got a beautiful shot, and we try to keep encouraging him to shoot and come up ready to shoot and still he turns the shot down, or shoots when he's out of rhythm or when he shouldn't. But he's got a wonderful stroke and if he would start giving us that, it would really help this team."
And Pargo?
"Jeremy's adjustment is just understanding that possessions matter," Few said of his freshman from Chicago.
And there was never a teaching moment quite like Sunday's 99-95 loss at Washington.
"With a minute left in a one-point game, you don't throw a 50-50 pass the full length of the floor because Adam's calling for it," Few said. "If you've been around Adam enough, you know he calls for it for 40 minutes. When to pull the throttle back and when not to force things is a fine line – and the gift of Jeremy is that he's going to make those plays. Like 20 seconds later in that game, he makes perfect bounce pass backdoor to Adam that puts us back in the game.
"I don't know if we have anybody else in the program who would have thrown that."
So it's a matter of where and when to, as Pargo puts it, "keep it simple.
"I have a tendency to try a big play every now and then," he said, "and make a bonehead mistake. I just need to keep it simple and get the ball to guys in position for easy shots."
Oh, there's other stuff, too. Unlike in high school, Pargo is being counted on to play defense every possession, and even with a year under his belt P-Mac is still learning that concept, too. Only now the classrooms are against Michigan State and UConn and U-Dub – and Wazzu – and the stakes are considerably higher.
And more urgent, given the current circumstances.
"You deal with the cards you're dealt," Few said, "and if you're a player and competitor, you look at this as an opportunity and take advantage of it. Same goes for Larry Gurganious (GU's other freshman guard). He didn't get much of a chance tonight, but he got one the other night and made some big plays.
"This is an opportunity for all of them. For all of us."
With no excuses.
Local journalism is essential.
Give directly to The Spokesman-Review's Northwest Passages community forums series -- which helps to offset the costs of several reporter and editor positions at the newspaper -- by using the easy options below. Gifts processed in this system are not tax deductible, but are predominately used to help meet the local financial requirements needed to receive national matching-grant funds.
Subscribe to the sports newsletter
Get the day's top sports headlines and breaking news delivered to your inbox by subscribing here.
---