Sen. William Proxmire, political maverick, dies at 90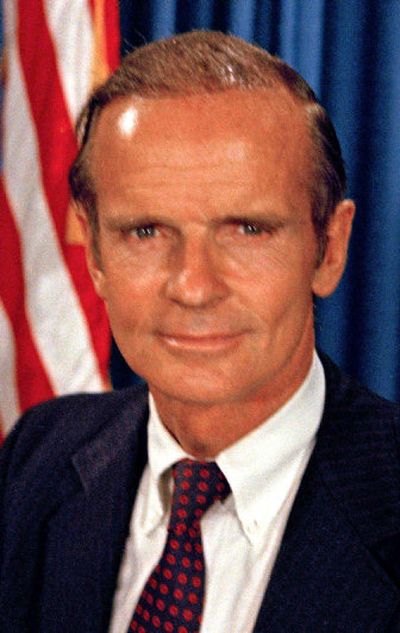 WASHINGTON – Sen. William Proxmire, the Wisconsin Democrat who fought government waste for years with his mocking "Golden Fleece" awards, died Thursday at 90.
Proxmire was known for battling for causes that few colleagues embraced. He won re-election repeatedly without accepting campaign donations and fought year after year for ratification of an anti-genocide treaty.
The former senator, who suffered from Alzheimer's disease, died at Copper Ridge, a convalescent home in Sykesville, Md.
Proxmire's monthly "Golden Fleece" awards, which he began in 1975 to point out what he thought were frivolous expenditures of taxpayers' money, became a Washington tradition. He also fought for decades for passage of an anti-genocide treaty, which the Senate finally approved in 1986, two years before his retirement.
He was elected to the Senate in 1957 to fill the seat left vacant by the death of Joseph McCarthy, the Republican senator made infamous for his communist witch hunts.
Long before the McCain-Feingold campaign finance reform law was a twinkle in the eye of lawmakers, and at a time when millions were spent campaigning for Senate seats, Proxmire made a point of accepting no contributions. In 1982 he registered only $145.10 in campaign costs, yet gleaned 64 percent of the vote.
Over the years, the rebel Democrat developed an image of penny-pinching populism that played well with his home-state voters.
The son of a wealthy physician in Lake Forest, Ill., Proxmire graduated from Yale University and Harvard Business School. He served with military intelligence in World War II and later moved to Wisconsin to begin a career in politics.
After three unsuccessful attempts at winning the governorship, Proxmire won McCarthy's vacant seat.
Soon he carved out a reputation as a senator with an independent streak, introducing amendments without consulting the party heads, filibustering, and even criticizing the dictates of then-Majority Leader Lyndon B. Johnson.
In more than two decades, Proxmire did not travel abroad on Senate business and he returned more than $900,000 from his office allowances to the Treasury. He repeatedly sparked his colleagues' ire by opposing salary increases and fighting against perks such as a new gym in the Hart Office Building.
Even so, his reputation was that of a workaholic and even his strongest critics found him to be one of the chamber's most disciplined, intelligent and persistent members.
He held the longest unbroken record in the history of the Senate for roll call votes.
Proxmire said his biggest mistake in Congress was his early support for the Vietnam War, a position he reversed in 1967.
Proxmire groomed his physical prowess as well as political. He kept in shape with rigorous exercise, ran several miles to work each day, and wrote a book about keeping fit. He even got a facelift and a hair transplant.
As Proxmire increased in seniority, he became less of a budget nitpicker and more of an effective legislator. He served for six years as head of the Senate Banking Committee, where he first opposed, and then backed, the federal bailout for New York City.
He also focused on consumer legislation, pushing a "truth in lending" law through Congress to protect borrowers.
---