Sports
Colts' bid for perfect season ends
Mon., Dec. 19, 2005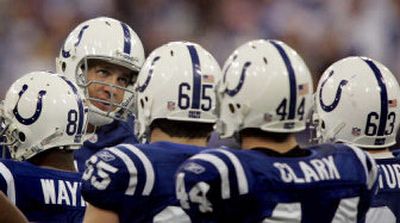 INDIANAPOLIS – The perfect season is over. Take heart, Colts fans: There's always the Super Bowl.
Indianapolis' unbeaten streak ended Sunday in a 26-17 loss to a San Diego team desperate to make the playoffs.
In a game of dramatic turnarounds, the Chargers went ahead on a 49-yard field goal by Nate Kaeding with 6:41 left after the Colts erased a 16-0 deficit with a field goal and two touchdowns in a six-minute span of the third quarter. Then Michael Turner clinched it with an 83-yard touchdown run after rookie Luis Castillo sacked Peyton Manning to knock the Colts out of field-goal range.
The win kept San Diego (9-5) alive for an AFC wild-card spot and prevented Denver from clinching the AFC West. It also allowed the Colts (13-1) to rest starters for the final two games of the season, having already clinched home-field advantage for the AFC playoffs.
"We want to win, but we want to get everybody in," coach Tony Dungy said.
And it certainly led to champagne celebrations by members of the 1972 Dolphins, the only team to complete a season undefeated.
Further consolation for Indianapolis: The last team to start 13-0 and lose, the 1998 Denver Broncos, went on to win the Super Bowl. And fans at the RCA Dome seemed to appreciate it – the ones who were left applauded their team as the game wound down.
"It really was a fun game," Dungy said. "It was disappointing because it was an AFC team. Our guys wanted to win, but they just outplayed us."
This game demonstrated that when the Colts play badly, they can be as bad as anyone.
"It's tough to go 16-0. You have to play well every week," Dungy said. "That wasn't the main goal in our mind. Losing wasn't what we wanted to do, but if it brings us back with a little more resolve, then maybe something will come of it."
Manning was sacked four times and threw two interceptions, although he finished with 336 yards, many of them late.
"They were treating it like a playoff game," Manning said, "and we were, too.
"I feel very disappointed that we lost the game."
When the Colts rallied, it was largely the work of the defense.
Trailing 16-3 after Mike Vanderjagt's field goal, Gary Brackett intercepted Drew Brees' pass, setting up a 1-yard touchdown run by Edgerrin James. Then Dwight Freeney sacked Brees to force a fumble, and Manning threw a 1-yard pass to Dallas Clark.
Suddenly it was 17-16 Indy with 40 seconds left in the third quarter, and the RCA Dome, quiet for almost three quarters, exploded in a raucous roar. It stayed loud as the defense closed in on the Chargers, but went silent when Brees and McCardell bailed out the Chargers with a 54-yard connection.
McCardell fielded Hunter Smith's punt on the goal line and could get only to his 8, then atoned with the long reception. That set up Kaeding's go-ahead field goal.
Nick Harper's end-zone interception after Dominic Rhodes fumbled the ensuing kickoff stopped one threat for the Colts. Manning drove the Colts down the field, but a grounding call and Castillo's sack forced a punt.
Two plays later, Turner turned right end and raced untouched down the sideline for the clincher.
"We had a chance to go ahead and see what happened, but we didn't finish it off," Dungy said.
San Diego dominated early, sacking Manning on each of the Colts' first two possessions.
Brees, who finished 22 of 33 for 255 yards, hit McCardell with a 29-yard TD pass to give the Chargers a 7-0 first-quarter lead. Kaeding added field goals from 36 and 20 yards that made it 13-0 at the half. Kaeding made a 48-yarder at the start of the third quarter before the Colts got back in it.
Local journalism is essential.
Give directly to The Spokesman-Review's Northwest Passages community forums series -- which helps to offset the costs of several reporter and editor positions at the newspaper -- by using the easy options below. Gifts processed in this system are not tax deductible, but are predominately used to help meet the local financial requirements needed to receive national matching-grant funds.
Subscribe to the sports newsletter
Get the day's top sports headlines and breaking news delivered to your inbox by subscribing here.
---