News > Spokane
Rossi arrives to promote book
Mon., Dec. 19, 2005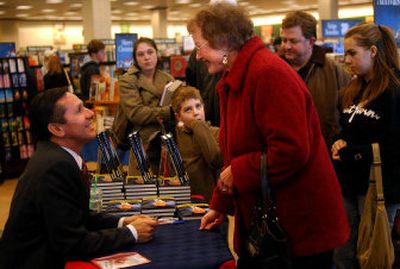 Dino Rossi is in his comfort zone.
He's traveling the state, shaking hands, small-talking it up with taxpayers.
Saturday, it was the Tri-Cities. Sunday was Spokane's turn.
However, this tour hardly has the same unrelenting pace as the Republican's 2004 campaign for Washington governor. Rossi is now making the rounds to promote his new book, "Dino Rossi: Lessons in Leadership, Business, Politics and Life."
"This is a lot easier than running for governor," Rossi said Sunday afternoon during a book signing at Barnes & Noble Booksellers in the Spokane Valley.
In his bid for governor, Rossi said, he attended about 250 fund-raisers and delivered 1,200 speeches over a year's time. The former state senator lost to Christine Gregoire by 133 votes in a roller-coaster election that took six months, three counts and a two-week court challenge to sort out.
Now, Rossi, who lives outside Seattle, is hitting bookstores, such as Borders in Everett and Barnes & Noble in Tukwila.
He sold about 50 copies at Sunday's signing, which at times attracted more TV crews than shoppers.
"I consider him our governor," said Mary Overmyer of Harrington, holding her autographed copy of Rossi's book, which lists for $23.95. "The other one is the illegitimate governor. He won in Eastern Washington, hands down.
Rossi, a self-made commercial real estate mogul, said he started writing his book in the spring. The 199-page memoir, with photos of Rossi with President Bush, former New York Mayor Rudolph Giuliani, as well as family members, features chapters such as "You never fail until you stop trying," "Vision for a better future," and the most intriguing title of all, "How I ended up with a dog named Dubya."
The story goes, when Terry and Dino Rossi's oldest daughter, Juliauna, asked for a dog, her dad's response was, "If the president of the United States writes me a letter that you should have a dog, we'll get one."
The president responded with a letter (photocopied in the book), and Dubya has been a Rossi family member since 2003.
"(Dubya's) been a great addition to the family," said Rossi, whose children range in age from 5 to 15. "He's helped teach the kids responsibilities."
Rossi, who served in the state Senate with Jim West, said he didn't know what advice he'd give the former Spokane mayor, whom voters recalled on Dec. 6.
"Some things in life, you just have to move on and figure out what the positives are," Rossi said. "For me, I'm a glass half full kind of guy, where some people want to deplete my glass."
Although the two politicians have been friendly over the years, Rossi said he has not spoken to West since February.
"I should give him a call. I was at Mass praying for him today. That will not end," said Rossi, who is Catholic.
As for Rossi's political future, he reiterated he is not going to challenge Democrat Maria Cantwell for her U.S. Senate seat. He won't decide until 2007 whether to run for governor, which would be his second attempt at statewide office.
"If it's right for my family and the skills I have to offer and the things I think I have to turn the state around, then yes," he said.
Local journalism is essential.
Give directly to The Spokesman-Review's Northwest Passages community forums series -- which helps to offset the costs of several reporter and editor positions at the newspaper -- by using the easy options below. Gifts processed in this system are not tax deductible, but are predominately used to help meet the local financial requirements needed to receive national matching-grant funds.
Subscribe now to get breaking news alerts in your email inbox
Get breaking news delivered to your inbox as it happens.
---