News > Nation/World
WTO meeting ends with deal on farm export subsidies
Mon., Dec. 19, 2005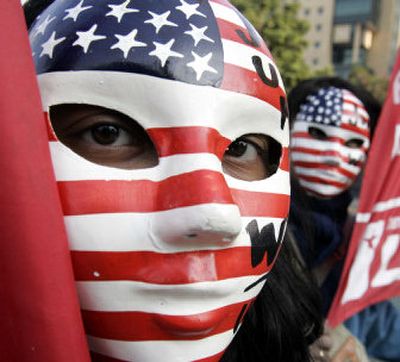 HONG KONG – WTO negotiators cut a last-minute deal Sunday on ending farm export subsidies and other trade barriers, claiming modest progress toward their goal of forging a global trade pact by late next year.
The agreement was a badly needed breakthrough for the World Trade Organization with its credibility on the line following devastating collapses of two of its last three key meetings.
Past WTO gatherings have served as a battlefield for anti-globalization protests, but Hong Kong authorities managed to prevent violent clashes between police and activists from spoiling the talks. Although riots erupted outside the convention center Saturday, a march Sunday by 5,000 demonstrators ended without violence.
Dickering until the last minute, delegates from both wealthy and poor countries reconciled their conflicting interests, agreeing to eliminate farm export subsidies by 2013, to work toward dismantling trade barriers in manufacturing and services and to provide greater protection and support for developing countries.
"You put the round back on track. You gave it a new sense of urgency," a jubilant WTO chief, Pascal Lamy, told the delegates, many of whom had worked almost round-the-clock thrashing out their differences.
Developing nations felt the final agreement addressed many of their concerns, from opening up rich nations' farming markets to approving measures that could enable the world's poorest countries to increase their tiny share in global trade.
"We welcome it," said India's trade minister, Kamal Nath. "It is focused and it strikes at various problems of developing countries."
But the general lack of progress at the six-day meeting left some disappointed – and puts pressure on the WTO if it hopes to conclude a binding global trade treaty by the end of next year.
"The agreement we have reached – if it didn't make the conference a success, it certainly saved it from failure," said European Union trade chief Peter Mandelson, whose delegation came under heavy pressure to cut barriers protecting Europe's agriculture market.
Pushing back the date for eliminating farm export subsidies to 2013 was a key demand of the 25-nation European Union, which held out against intense pressure from Brazil and other developing nations to end the payments by 2010. Developing nations say such government farm support to promote exports undercuts the competitive advantage of poor farmers.
The agreement, approved by all of the WTO's 149 member countries and territories, calls for rich countries to eliminate all export subsidies on cotton by 2006 and gives the world's poorest nations special trade privileges.
But the agreement falls far short of the delegates' original ambition for Hong Kong: producing a detailed outline for a final trade treaty that would conclude the so-called Doha round that began in 2001 in Doha, Qatar, to pay particular attention to the needs of poorer nations.
Moving WTO members a step toward that goal, the agreement makes April 30, 2006, the new deadline for working out formulas for cutting farm and industrial tariffs and subsidies – the nuts and bolts of an eventual trade pact.
"The progress made today really lays the groundwork for negotiations going forward," said Susan Schwab, a deputy U.S. trade representative.
She said the development progress – aid for trade and duty-free, quota-free progress – is a good omen for trade negotiations, which were battered in 2003 when delegates from developing countries walked out of WTO talks in Cancun, Mexico.
This year, WTO members agreed to ambitious cuts in industrial tariffs, linking them to similar cuts in farm trade, though poor countries were given more flexibility for such reforms.
Activists and other critics of the WTO claim its work on opening up markets benefits big companies and the rich at the expense of ordinary workers and the poor.
"There is no such thing as free trade," said Deena Hoff, a representative of the U.S. National Family Farm coalition. "There are winners and there are losers, and farmers and working people and the environment are the losers.
"When you put a price tag on every bowl of rice, on every drink of water, on every life, you are not supporting the people of the world," she said.
Local journalism is essential.
Give directly to The Spokesman-Review's Northwest Passages community forums series -- which helps to offset the costs of several reporter and editor positions at the newspaper -- by using the easy options below. Gifts processed in this system are not tax deductible, but are predominately used to help meet the local financial requirements needed to receive national matching-grant funds.
Subscribe now to get breaking news alerts in your email inbox
Get breaking news delivered to your inbox as it happens.
---