News > Spokane
Council names Hession new mayor of Spokane
Tue., Dec. 20, 2005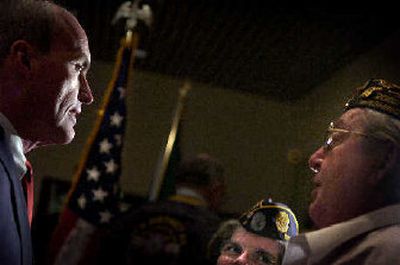 Seven months of political uncertainty ended Monday night when the Spokane City Council voted unanimously to appoint Dennis Hession to replace recalled Mayor Jim West.
The 6-0 vote at 6:36 p.m. came less than four days after the Spokane County election canvassing board had certified the Dec. 6 recall that removed West from office.
West, who was elected in 2003, had served less than two years of his four-year term. West had been the subject of a series of Spokesman-Review investigative stories that he had used his office for personal benefit in soliciting dates from young men.
Hession, who was elected City Council president in 2003, automatically became acting mayor when the recall election was certified Friday. His appointment Monday to the two remaining years of West's mayoral term had been widely anticipated in the weeks leading up to the recall.
"It was a good day," Hession said following the council's vote. "I began to get oriented to the job and the people."
Hession, 55, plans to take his oath of office on Jan. 3 at noon. He said he has not chosen a location for the ceremony, although Council Chambers is considered the most likely venue.
In the meantime, Hession will continue as the city's appointed mayor.
The delay between Monday's appointment and the Jan. 3 swearing-in gives Hession a chance to make the transition from his full-time law practice downtown to the rigors of the mayor's office.
On Monday, Hession awoke at 4:30 a.m. and arrived at the mayor's office – for the first time as mayor – just an hour later. He left City Hall for about an hour and returned at 9 a.m. to a steady stream of people who stopped by the mayor's office to say hello and to talk about issues.
"There was a lot of stuff going on," Hession said.
Among his first official acts, Hession signed an executive order declaring the Rookery and Mohawk Buildings blighted properties, setting the stage for possible condemnation by the city and a private redevelopment of the site at Howard and Riverside.
Hession has been championing an effort to renovate the two historic buildings for downtown housing and commercial spaces, and in late November won council approval allowing the city to intervene in a possible purchase of the properties for $4.75 million, but only if a private developer immediately repurchases them.
The council on Monday approved a resolution declaring the acquisition of the Rookery and Mohawk buildings as necessary to eliminate blight. The council also approved an emergency ordinance allowing a possible condemnation, which could set the stage for a purchase by a private developer.
Hession also signed a non-controversial ordinance establishing a city investment committee.
Councilman Joe Shogan, who was elected to the council from northwest Spokane in 2003 and appointed by Hession as council president pro tem in 2004, took possession of the council gavel at the start of a regularly scheduled briefing session at 3:30 p.m.
Hession had convened the briefing, but then passed the gavel to Shogan after explaining that he could not serve as council president and acting mayor at the same time.
Shogan continued to chair the council during the 6 p.m. legislative session when the vote was taken to appoint Hession as mayor.
Shogan and Councilman Al French have both offered themselves as candidates for appointment to the council president's position, and what is now a six-member council appears to be split 3-3 on the choice between the two.
If the council cannot decide on an appointment to replace Hession as council president, then Shogan would continue to preside over meetings as council president pro tem.
A resolution appointing a new council president was deferred until the council's next regular meeting on Jan. 3.
Also on Monday, council members said goodbye to Councilwoman Cherie Rodgers, who had served for nine years. Rodgers was given several going-away presents, including a "no parking" sign with her name affixed below it.
Rodgers told well-wishers she was "truly honored" to have served and "I really tried to do the right thing for the people of the city of Spokane."
Hession said Rodgers served with "a powerful sense of justice" and was truly committed to the citizens.
Following the going-away ceremony for Rodgers, three newly elected or re-elected council members were sworn in: Mary Verner, Nancy McLaughlin and French. McLaughlin was elected to replace Rodgers from the city's northwest council district.
Local journalism is essential.
Give directly to The Spokesman-Review's Northwest Passages community forums series -- which helps to offset the costs of several reporter and editor positions at the newspaper -- by using the easy options below. Gifts processed in this system are not tax deductible, but are predominately used to help meet the local financial requirements needed to receive national matching-grant funds.
Subscribe now to get breaking news alerts in your email inbox
Get breaking news delivered to your inbox as it happens.
---