News > Nation/World
Crash off Miami Beach claims 20 on seaplane
Tue., Dec. 20, 2005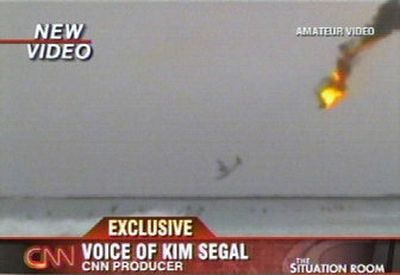 MIAMI BEACH, Fla. – A seaplane crashed just off Miami Beach within sight of the city's high-rises Monday, killing all 20 people aboard. Witnesses said the aircraft exploded in flames as it came down, and the FBI joined the investigation.
Amateur video obtained by CNN television showed the main part of the aircraft slamming into the water followed by a flaming object trailing thick black smoke.
Scuba divers and rescuers in speedboats struggled to reach the victims, but as evening fell, they found no sign that anyone had survived.
The Chalk's Ocean Airways plane – a twin-engine Grumman G-73T Turbine Mallard – went down around 2:30 p.m. after taking off from Miami for the island of Bimini in the Bahamas, the Federal Aviation Administration said.
The Coast Guard said 19 bodies had been found. The 1940s-era plane was carrying two crew members and 18 passengers, including three infants, authorities said.
Because of witness reports of an explosion, the FBI sent agents to assist in the investigation, but there was no immediate indication of terrorism or sabotage, said Judy Orihuela, spokeswoman for the FBI's Miami field office.
"It's too soon to say whether we are going to get involved," Orihuela said. "We're just going to check it out."
Chalk's is a small air carrier that is not required to conduct federal security screening of passengers and their luggage, said Dale Karlen, federal security director at Fort Lauderdale-Hollywood International Airport.
With many schools closed in advance of the holidays and Christmas week traditionally one of the busiest times of the year for tourism, the beach was relatively busy, and dozens of beachgoers saw the plane go down. Dozens more gathered to watch the rescue operation.
Coast Guard Capt. James Maes said the main part of the fuselage was submerged in about 35 feet of water that is subject to strong tidal currents because of a narrow ship channel. Divers continued to search after dark for the 20th victim.
Ship traffic in and out of the port will be suspended indefinitely, Maes said, including three large cruise ships that had been scheduled to depart Monday afternoon.
The National Transportation Safety Board also sent a team to investigate.
Skies were cloudy, but there was no rain or lightning at the time of the crash.
Garred Gadaon, 34, said his sister-in-law and her 13-year-old daughter were on the plane.
"We had a tragic death today with many of our family members and our friends. It doesn't seem real. Chalk's has always been a safe plane for us," he said while standing outside the Miami Beach Police Department.
Bahamian Prime Minister Perry G. Christie said the country's consul general in Miami had met some family members at the scene of the accident. The statement did not say how many Bahamians were among the victims.
"The nation wishes to express its deepest condolences to the people of Bimini on their apparent loss," Christie said in a statement.
Coast Guardsmen and emergency workers wearing protective suits hauled bodies up from rescue boats, rushing to find victims before darkness fell. Law enforcement speedboats, divers and helicopters took part in the search and were joined by others in private boats, on personal watercraft and on surfboards.
Chalk's Ocean Airways flies between Miami and the Bahamas, using planes that take off and land on the water. Chalk's seaplanes, which have been featured in TV shows such as "Miami Vice," take off in view of the port and the multimillion-dollar homes that dot islands in the bay.
Chalk's general manager Roger Nair said Monday's crash was the airline's first accident with a passenger fatality. The National Transportation Safety Board database indicates no fatal accidents involving passengers of Chalk's since 1982, when the database was begun.
Chalk's only crash involving fatalities occurred in 1994, when two pilots died in a crash of their seaplane near Key West, Fla.
Local journalism is essential.
Give directly to The Spokesman-Review's Northwest Passages community forums series -- which helps to offset the costs of several reporter and editor positions at the newspaper -- by using the easy options below. Gifts processed in this system are not tax deductible, but are predominately used to help meet the local financial requirements needed to receive national matching-grant funds.
Subscribe now to get breaking news alerts in your email inbox
Get breaking news delivered to your inbox as it happens.
---